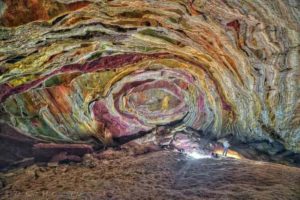 Hormuz Island
Hormuz Island has an area of 42 km2 (16 sq mi). It is covered by sedimentary rock and layers of volcanic material on its surface. The highest point of the island is about 186 metres (610 ft) above sea level. Due to a lack of precipitation, the soil and water are salty.
Hormuz Island is a salt dome situated in the Persian Gulf waters near the mouth of Hormuz Strait in Hormuzgan province, at 8 kilometers distance from Bandar Abbas. The island is elliptical, and its rock is mostly of the igneous and often volcanic type. Hormuz is one of the most beautiful Islands of the Persian Gulf due to its geological phenomena and related landforms. This island is a mature salt diapir with great mineralogical and lithological diversity. In this research, we focused on fieldwork, which included data gathering and taking photographs and also a review of the published papers and books.
The main geotourism attractions of the island include various landforms resulted from differential erosion, as well as very attractive geomorphologic structures such as rocky and sandy beaches, sea caves, colorful salt domes, coral reefs, etc. Besides the geological and geomorphological sites of the region, the ancient and cultural features are also potential attractions for tourism development on the island.
The rocks show that, over thousands of years that the island of Hormuz gradually comes out of the water, the wear and tear on it makes different shapes. According to researches, geological age of the Hormuz island is about 600 million years ago and its life when coming out of the water is about 50 thousand years.
Rainbow Cave
This cave is created by the flow of water to the sea and its passage under the salt mountain. The depth of the cave is about 30 to 40 meters. In some parts of the cave, several corridors can be seen, which, according to geologists, have caused these corridors. The height of the roof varies along the cave and in some parts you need to bend your head to cross
Inside the cave, sedimentary and salt rocks are stacked layer by layer, creating a smooth surface just like a rainbow. The most beautiful part of the cave is the end where the colors reach their peak. The color spectrum seen in this cave is about seventy spectrums
The colors in this cave are due to their mineral composition. These compounds are metals such as iron that combine with other elements to form colored minerals. Salt rocks can be seen at the beginning of the cave, but gradually colors and colorful stones appear on the cave walls
Rainbow Cave, Hormuz Island, Iran