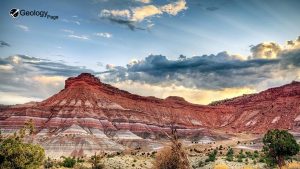 Paria or Pahreah, is a ghost town on the Paria River in Grand Staircase-Escalante National Monument in central Kane County, Utah, United States. It was inhabited from 1870 to 1929, and later used as a filming location.
History
The area was first settled in 1865 by a Mormon group led by Peter Shirts. This early settlement was named Rockhouse, for Shirts's strongly built sandstone house. After the end of the Black Hawk War in 1867 settlers began to arrive at a rapid pace. Farming produced good crops for several years, but irrigation was very difficult; each spring the surface runoff water was absorbed into the desert soil too quickly to properly water the fields. In 1870 the residents agreed to move the settlement. They divided in two groups; half the people went about 5 miles (8.0 km) upstream and founded the town of Pahreah.
In 1871, John D. Lee came to the Paria area, fleeing investigators of the Mountain Meadows massacre. He constructed a dam and irrigation ditches with the help of many locals and passersby, including members of John Wesley Powell's second Colorado River expedition.
Pahreah grew through the 1870s, gaining a general store, a church, a number of sandstone houses, and many log houses. The population grew to 47 families. The town hit hard times in the 1880s, however. The Paria River flooded every year from 1883 to 1888, washing away fields and even some buildings. People started to move away. By 1892 there were only eight families left, but for some reason the town was granted a post office that year, under the name Paria. Not much changed until a small gold mining operation was established here in 1911. Within a year, that too was wiped out by flooding. The post office closed in 1914. A lone bachelor prospector held out until 1929, then Paria was empty.
Photos
Video
Note: The above post is reprinted from materials provided by Wikipedia.