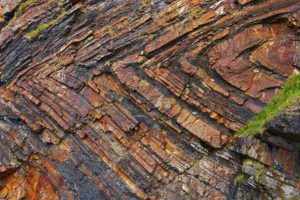 Millook is a deep coastal valley and hamlet in the parish of Poundstock, on the north coast of Cornwall, England.
In 2014 the cliffs at Millook Haven were voted by the Geological Society of London as one of Britain's top 10 geological sites, leading the "folding and faulting" category. The cliffs display an impressive series of recumbent chevron folds, in Carboniferous age killas of inter-bedded sandstones and shales, originally deposited in deep water.
The stony beach is popular with surfers despite there being few parking spaces and the South West Coast Path passes through the seaward end of the valley. The ancient semi-natural woodland has been described as the best ravine wood in Cornwall and along with the coast is within the Cornwall Area of Outstanding Natural Beauty.
Millook Haven
The coastal section through north Cornwall into Devon that runs to Bude and Hartland Point contains a spectacularly folded series of inter-bedded sandstones and shales originally deposited deeply under water.
The cliffs at Millock Haven are a great site for getting to grips with these deformed rocks.
The folds are recumbent and have a characteristic "chevron" kinky shape that tends to form when strongly layered rocks are buckled.
Photos
Millook Haven Beach, England