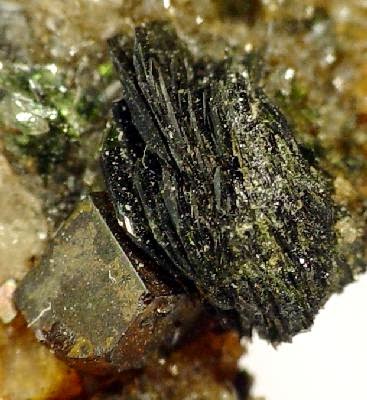 Chemical Formula: Ba(Fe2+,Mn2+,Mg)2(Al,Fe3+)2(PO4)3(OH)3
Locality: Rapid Creek (Cross Cut Creek), Big Fish River, Yukon Territories, Canada.
Name Origin: Named for Alan Kulan (1921-1977), prospector who found the first specimen.
Kulandite is a very rare barium phosphate mineral. It is one of the rare minerals that are making their way out of the Yukon Territory and into the mineral market.
History
Discovery date : 1976
Town of Origin : RAPID CREEK, BIG FISH RIVER/BLOW RIVER AREA, YUKON
Country of Origin : CANADA
Optical properties
Optical and misc. Properties : Transparent to Translucent
Refractive Index : from 1,70 to 1,72
Axial angle 2V: 32°
Physical Properties
Cleavage: {010} Good, {100} Good
Color: Blue, Blue green, Green, Black green.
Density: 3.91
Diaphaneity: Transparent to Translucent
Hardness: 4 – Fluorite
Luminescence: Non-fluorescent.
Luster: Vitreous – Adamantine
Streak: greenish white
Photos :