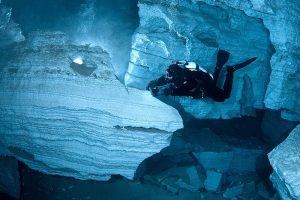 Orda Cave is a gypsum crystal cave found underneath the western Ural Mountains. The mouth is near the shore of the Kungur River just outside Orda, Perm Krai in Russia. The cave system stretches over 5.1 kilometres (3.2 mi) with around 4.8 kilometres (3.0 mi) over the overall length being under water. This makes it one of the longest underwater caves and the largest underwater gypsum cave in the world. It contains the longest siphon in the former Soviet Union "Russia" (935 meters).
The mineral-rich area surrounding the cave filters the water and makes it very clear. Divers have a visibility of over 50 yards (46 m) making it an ideal location for photographic expeditions. Victor Lyagushkin, a journalist and underwater photographer, led around 150 expeditions into the caves over a six-month period in 2011. The photographs taken by his team were published in the Orda Cave Awareness Project alongside stories from other divers who had visited the cave system. During the dives Lyagushkin used a funnel system to direct the air bubbles to the mouth of the cave and away from the delicate gypsum, fearing that it might easily be damaged. The diving team were also the first people to produce a spherical panorama of an underwater cave.
A local myth tells of the "Lady of the Orda Cave" who is said to live in the caves. In 2013 Natalia Avseenko, a former free diving champion, was featured in a photographic series designed to illustrate the legend. Lyagushkin returned to the site after leading the 2011 dive, taking photographs of Avseenko over a two-day period. The images were taken at depths of up to 17 metres (56 ft) with temperatures that reached down to −23 °C (−9 °F). It is 3 degrees to 20 degrees Celsius below zero just on the surface.
The cave has also been visited during dives by Martyn Farr, Lamar Hires, Pascal Bernabé, and Reggie Ross.
Photo
Map
---
Note: The above post is reprinted from materials provided by Wikipedia.
Image Courosity:ordacave.ru