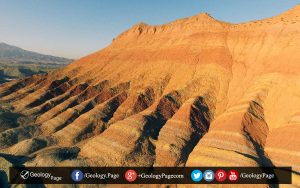 The Zhangye Danxia National Geological Park, also known as Zhangye Danxia (Landform) Geopark, is located near the city of Zhangye in China's northwestern Gansu province. It covers an area of 510 square kilometres (200 sq mi). Formerly a provincial park and scenic area, it became a national geopark in November 2011. Known for its colorful rock formations, it has been voted by Chinese media outlets as one of the most beautiful landforms in China.
China Danxia is the name given in China to landscapes developed on continental red terrigenous sedimentary beds influenced by endogenous forces (including uplift) and exogenous forces (including weathering and erosion). The inscribed site comprises six areas found in the sub-tropical zone of south-west China. They are characterized by spectacular red cliffs and a range of erosional landforms, including dramatic natural pillars, towers, ravines, valleys and waterfalls. These rugged landscapes have helped to conserve sub-tropical broad-leaved evergreen forests, and host many species of flora and fauna, about 400 of which are considered rare or threatened.
Location
The park is located in the northern foothills of the Qilian Mountains, in the counties of Linze and Sunan, which are under the administration of the prefecture-level city of Zhangye, Gansu province. The main areas of Danxia landform are in Kangle and Baiyin townships.
The core area of the park, Linze Danxia Scenic Area, is located 30 kilometres (19 mi) west of downtown Zhangye and 20 kilometres (12 mi) south of the seat of Linze County. It is the most developed and most visited part of the park. A second scenic area, Binggou (冰沟), located on the north bank of Liyuan River (梨园河), was officially inaugurated on 3 August 2014. Binggou covers an area of 300 square kilometres (120 sq mi), and its elevation ranges from 1,500 to 2,500 meters above sea level. A third area, Sunan Danxia Scenic Area, is located in Ganjun, south of Linze.
Landscape
Zhangye Danxia is known for the unusual colours of the rocks, which are smooth, sharp and several hundred meters tall. They are the result of deposits of sandstone and other minerals that occurred over 24 million years. The result, similar to a layer cake, is connected to the action of the same tectonic plates responsible for creating parts of the Himalayan mountains. Wind, rain, and time then sculpted extraordinary shapes, including towers, pillars, and ravines, with varying colours, patterns, and sizes.
How Was It Formed?
Zhangye 's Danxia was formed by the erosion of red sandstone, forming isolated peaks and steep stratified outcrops. Its special geological structure, combined with long-term desert conditions , freeze-thaw peeling, and wind and water erosion gave rise to its present appearance.
Geologists believe that Danxia topography is formed by folding of layered oceanic crust. Exposed slanting rock layers have different colors, textures, shapes, sizes, and patterns. The combination of differences in density and erosion create towering peaks, cave holes, and stone halls.
Photos
Zhangye Danxia National Geological Park
Video
Map