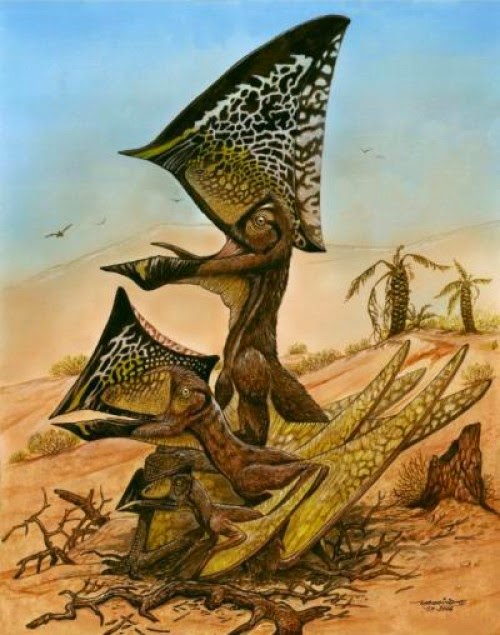 Scientists discovered the bones of nearly 50 winged reptiles from a new species, Caiuajara dobruskii, that lived during the Cretaceous in southern Brazil, according to a study published August 13, 2014 in the open-access journal PLOS ONE by Paulo Manzig from Universidade do Contestado, Brazil, and colleagues.
The authors discovered the bones in a pterosaur bone bed in rocks from the Cretaceous period. They belonged to individuals ranging from young to adult, with wing spans ranging from 0.65-2.35m, allowing scientists to analyze how the bones fit into their clade, but also how the species developed as it matured. After the initial analysis, scientists determined that the bones represent a new pterosaur, Caiuajara dobruskii, which is the southernmost known occurrence of this particular clade.
Several features of the Caiuajara dobruskii head differ from all other members of this clade, including the presence of a bony expansion projecting inside the large opening in the skull in front of the eyes, and the rounded depressions in the outer surface of the jaw. Younger and older reptiles mainly varied in the size and angle of the bony crest on the top of the head. The crest appeared to change from small and inclined in juveniles, to large and steep in adults.
According to the authors, the bone analysis suggests this species was gregarious, lived in colonies and may have been able to fly at a very young age.
Journal Reference:
Manzig PC, Kellner AWA, Weinschutz LC, Fragoso CE, Vega CS, et al. Discovery of a Rare Pterosaur Bone Bed in a Cretaceous Desert with Insights on Ontogeny and Behavior of Flying Reptiles. PLOS ONE, 2014 DOI: 10.1371/journal.pone.0100005
Note : The above story is based on materials provided by PLOS.