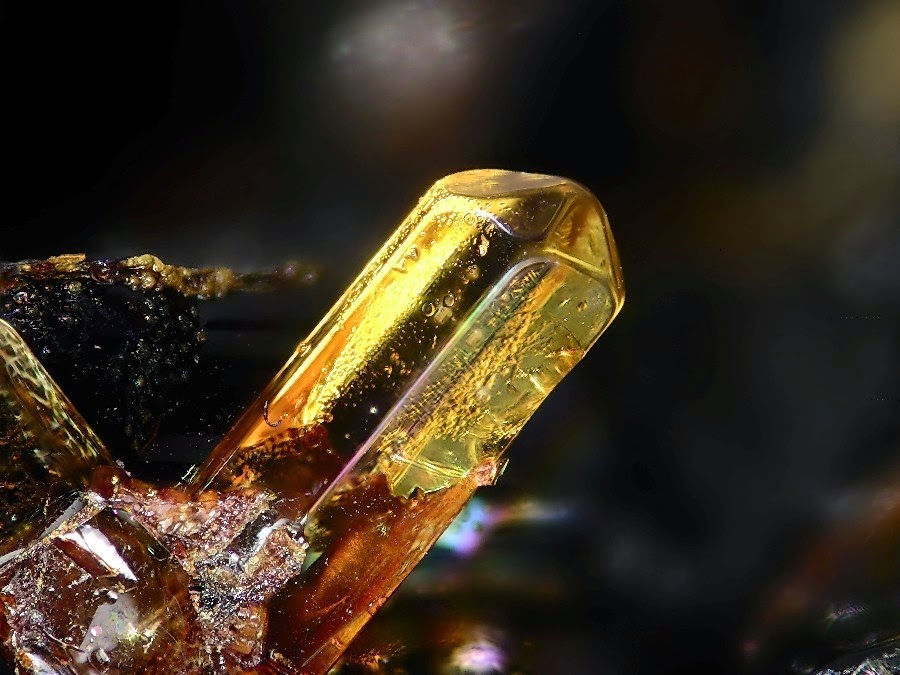 Chemical Formula: Ca5(PO4)3F
Locality: Common world wide.
Name Origin: Named as the fluorine end-member and from the Greek apatao – "I am misleading."
Fluorapatite, often with the alternate spelling of fluoroapatite, is a phosphate mineral with the formula Ca5(PO4)3F (calcium fluorophosphate). Fluorapatite is a hard crystalline solid. Although samples can have various color (green, brown, blue, violet, or colorless), the pure mineral is colorless as expected for a material lacking transition metals. It is an important constituent of tooth enamel. Fluorapatite crystallizes in a hexagonal crystal system. It is often combined as a solid solution with hydroxylapatite (Ca5(PO4)3OH or Ca10(PO4)6(OH)2) in biological matrices. Chlorapatite (Ca5(PO4)3Cl) is another related structure. Industrially, the mineral is an important source of both phosphoric and hydrofluoric acids.
Fluorapatite as a mineral is the most common phosphate mineral. It occurs widely as an accessory mineral in igneous rocks and in calcium rich metamorphic rocks. It commonly occurs as a detrital or diagenic mineral in sedimentary rocks and is an essential component of phosphorite ore deposits. It occurs as a residual mineral in lateritic soils.
Physical Properties
Cleavage: {0001} Indistinct
Color: Blue, Brown, Colorless, Violet, Green.
Density: 3.1 – 3.2, Average = 3.15
Diaphaneity: Transparent to Opaque
Fracture: Brittle – Conchoidal – Very brittle fracture producing small, conchoidal fragments.
Hardness: 5 – Apatite
Luminescence: Fluorescent and phosphorescent.
Luster: Vitreous – Resinous
Streak: white
Photos :