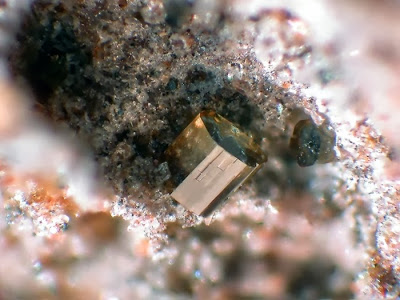 Chemical Formula: (Mg,Fe)2Al3(AlSi5O18)
Locality: Bodenmais, Germany.
Name Origin: From the French mining engineer and geologist P. L. A. Cordier (1777-1861).
Cordierite (mineralogy) or iolite (gemology) is a magnesium iron aluminium cyclosilicate. Iron is almost always present and a solid solution exists between Mg-rich cordierite and Fe-rich sekaninaite with a series formula: (Mg,Fe)2Al3(Si5AlO18) to (Fe,Mg)2Al3(Si5AlO18). A high temperature polymorph exists, indialite, which is isostructural with beryl and has a random distribution of Al in the (Si,Al)6O18 rings.
Occurrence
Cordierite typically occurs in contact or regional metamorphism of argillaceous rocks. It is especially common in hornfels produced by contact metamorphism of pelitic rocks. Two common metamorphic mineral assemblages include sillimanite-cordierite-spinel and cordierite-spinel-plagioclase-orthopyroxene. Other associated minerals include garnet (cordierite-garnet-sillimanite gneisses) and anthophyllite. Cordierite also occurs in some granites, pegmatites, and norites in gabbroic magmas. Alteration products include mica, chlorite, and talc. Cordierite occurs in the granite contact zone at Geevor Tin Mine in Cornwall.
Physical Properties of Cordierite
Cleavage: {010} Poor
Color: Colorless, Pale blue, Violet, Yellow, Gray.
Density: 2.55 – 2.75, Average = 2.65
Diaphaneity: Transparent to translucent
Fracture: Conchoidal – Fractures developed in brittle materials characterized by smoothly curving surfaces, (e.g. quartz).
Hardness: 7 – Quartz
Luminescence: Non-fluorescent.
Luster: Vitreous (Glassy)
Streak: white
Photos