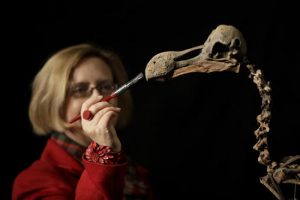 A dodo skeleton is about to take flight—at least at an auction.
Summers Place Auctions is selling what it describes as a rare composite skeleton of a dodo bird, a creature once found on the island of Mauritius in the Indian Ocean.
Sailors hunted the dodo into extinction in the 17th century and it has come to symbolize the harsh impact man can have on the world's ecosystem. The bird's name recognition was enhanced by Lewis Carroll, who included a dodo in "Alice's Adventures in Wonderland."
Auction house director Rupert van der Werff says the guide price for the skeleton to be auctioned Tuesday in Billinghurst is estimated to be between 300,000-500,000 pounds ($373,630 to $622,780) and that interest is high.
Note: The above post is reprinted from materials provided by The Associated Press.