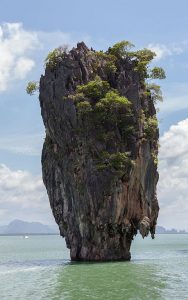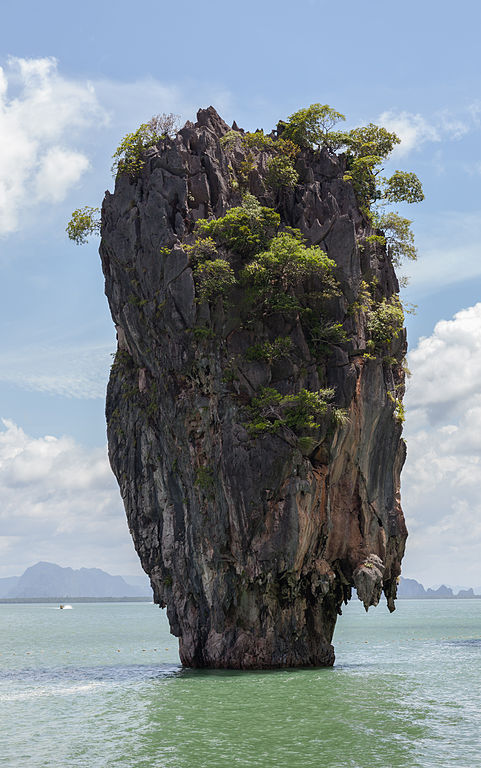 Khao Phing Kan (Thai: เขาพิงกัน) or Ko Khao Phing Kan (เกาะเขาพิงกัน) is an island in Thailand, in Phang Nga Bay northeast of Phuket. About 40 metres (130 ft) from the shores of Khao Phing Kan lies a 20-metre (66 ft) tall islet called Ko Tapu or Khao Tapu.
The islands are limestone tower karsts and are a part of Ao Phang Nga National Park. Since 1974, when it was featured in the James Bond movies The Man with the Golden Gun and Tomorrow Never Dies, Khao Phing Kan has been popularly called James Bond Island.
Ko Tapu is a limestone rock about 20 metres (66 ft) tall with the diameter increasing from about 4 metres (13 ft) near the water level to about 8 metres (26 ft) at the top. It lies about 40 metres (130 ft) to the west from the northern part of Khao Phing Kan.
A local legend explains the formation of Ko Tapu as follows. Once upon a time, there lived a fisherman who used to bring home many fish every time he went to the sea. However, one day he could not catch any fish despite many attempts and only picked up a nail with his net. He kept throwing the nail back into the sea and catching it again. Furious, he took his sword and cut the nail in half with all his strength. Upon impact, one half of the nail jumped up and speared into the sea, forming Ko Tapu.
A scientific version of the Ko Tapu formation says that in the Permian period, the area was a barrier reef. Then, upon tectonic movements, it ruptured, and its parts were dispersed over the area and flooded by the rising ocean. Wind, waves, water currents, and tides gradually eroded the islands thus formed, sometimes producing peculiar shapes, such as Ko Tapu. Tide-related erosion is visible at the bottom of the rock.
In The Man with the Golden Gun, Scaramanga describes Ko Tapu as a "mushroom-shaped rock", which houses two large solar panels which come up on top of Ko Tapu and lock on to the Sun.
Photo
Map
---
Note: The above post is reprinted from materials provided by Wikipedia.