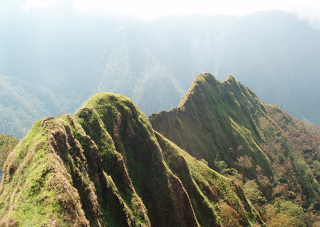 Scientists have discovered the reasons behind the lifespan of some of the world's iconic mountain ranges.
The study conducted by the University of Melbourne, Australia, and Aarhus University, Denmark, has revealed that interactions between landslides and erosion, caused by rivers, explains why some mountain ranges exceed their expected lifespan.
Co-author Professor Mike Sandiford of the School of Earth Sciences at the University of Melbourne said the study had answered the quandary as to why there was fast erosion in active mountain ranges in the Himalayas and slow erosion in others such as the Great Dividing Range in Australia or the Urals in Russia.
"We have shown that links between landslides and rivers are important in maintaining erosion in active or ancient mountain ranges," he said.
"This study is a great insight into the origins and topography of our globe's mountainous landscape."
Mountain ranges are expected to erode away in the absence of tectonic activity but several ranges, such as the Appalachians in the US and the Urals in Russia, have been preserved over several hundred million years.
Co-author, Professor David Egholm from Aarhus University said the new model study published in Nature today provided a plausible mechanism for the preservation of tectonically inactive mountain ranges.
"Computational simulations performed for the study revealed that variations in mountain erosion may relate to a coupling between river incision and landslides," he said.
Researchers said rivers can cut through bedrock and this process is thought to be the major factor in controlling mountain erosion, however, the long-term preservation of some mountains is at odds with some of the underlying assumptions regarding river erosion rates in current models of river-based landscape evolution.
The study revealed landslides affected river erosion rates in two ways. Large landslides overwhelm river transport capacity and can protect the riverbed from further erosion; conversely, landslides also deliver abrasive agents to the streams, thereby accelerating erosion.
Feedback between these processes can help to stabilize the rates of erosion and increase the lifespan of mountains, the authors said.
Note: The above story is reprinted from materials provided by The University of Melbourne