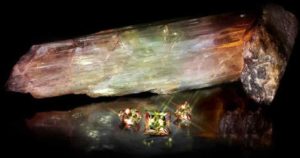 What is Zultanite Mineral?
Zultanite is a gem variety of the mineral diaspore, mined in the İlbir Mountains of southwest Turkey at an elevation of over 4,000 feet. Depending on its light source, zultanite's color varies between a yellowish green, light gold, and purplish pink.
Gem-quality transparent color-change (diaspore) Zultanite ® was discovered in the early 1970s. Commercial mining started in 2006 when Zultanite Gems LLC was awarded mining rights to the deposit. Jewelers started to purchase several small stones in the 1990s, but larger fine-quality crystals remained a collector's collection. During that time, very few stores around the world were lucky enough to offer these precious stones.
The diasporic metabauxite (diasporite) deposit of Turkey's Milas (Muğla) area is an unique deposit, comprising both metamorphic (primary) and hydrothermal-remobilized (secondary) diaspore produced during various geological times. Microscopic crystals of metamorphic origin are common and are the major component of the metabauxite ore that was metamorphosed from the Late Cretaceous to the Late Paleocene period. However, secondary macroscopic diaspore crystals that fill fracture zones that cross the metabauxite ore formed during the Late Paleocene, Eocene and Oligocene periods as a result of subsequent hydrothermal solutions that eliminated metabauxite constituents. Macroscopic diaspore crystals, based on size, appearance, occurrence and origin, can be distinguished from the metamorphosed microscopic diaspore crystals.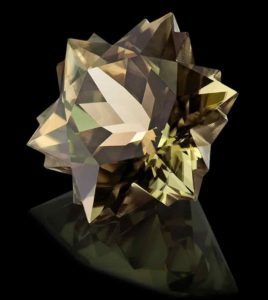 Approximately 60 percent of the macroscopic diaspore crystals are opaque in appearance and light green in color, and are not considered attractive. The other 40 percent, by contrast, are the quality of gems and exhibit a marked change in color under different types of lighting. The crystals in daylight are usually olive-green, and soil-brown. A small number of color-changing crystals show such as green in daytime or equivalent illumination and carmine in low-watt tungsten lights.
The diaspore crystals of gem quality have standard V-shaped twinnings of varying sizes. The crystals, when gathered, show outstanding lustre. They have perfect cleavage in the direction [0 1 0], and good cleavage in [1 1 0]. Most samples of gem diaspore are olive-green but a few are soil-brown. Many olive-green anisotropic crystals show especially noticeable color-change with different light sources, typically olive-green color under direct sunlight, intermittent daylight, D65 fluorescent lamp, but by contrast, a carmine color under low wattage tungsten, mercury and quartz lamps.
The color-changing quality of these diaspore crystals can be grouped into categories: olive-green or soil-brown and light bordeaux, olive-green and lavender-rose, olive-green and morello-cherry (Gem News of GIA, 1994).
Many Anatolian diaspore samples of olive-green and soil-brown color were analyzed to determine their average bulk chemical composition and quantify the presence of trace elements.
Pure diaspore has about 84.98 wt.% Al2O3 and 15.02 wt.% H2O. These values for our samples were both lower than expected with the difference being largely made up by Fe2O3, SiO2, and TiO2. In addition, the trace element analyses of the samples show significant amounts of Fe, Ti, Mn, and Cr, respectively. These chemical data indicate that the Anatolian diaspore crystals are not pure diaspore (Keller, 1978; Löffler and Mader, 2004), despite the fact that they are flawless gem material. The existence of these unexpected elements may be further evidence for the polycrystalline structure (Klug and Farkas, 1981)of the Anatolian diaspore (zultanite) crystals we describe below and must have resulted from their unusual mode of formation
Here's a brief overview of the mineral Diaspore and its gemstone trade name(s) Zultanite ® /Csarite TM and some of the people concerned, just to address any unanswered concerns about what it is and how these trade names come along with photographs and some noted related posts. At the end of this article there are pictures of the Zultanite ® 96 carat "Sultans Shield" and the Jewelry Ensemble Zultanite ® "Shooting Star" motif priced at more than $1.5 million: designed by Stephen Webster of London.
What color is Zultanite?
Zultanite is one of the most rare and transparent gemstones in the Diaspore family. Its colors range from yellow, cognac, pink to red. The most intense red hues are due to manganese concentrations. Like Alexandrite, Zultanite also presents impressive color change.
Where to find Zultanite?
Zultanite is mined only by Zultanite Gems, LLC, at a remote location in the Anatolian mountains of Turkey, directly from the host rock at an altitude of more than 1000 metres. The Turkish deposit remains the only Zultanite source in the world (colour-change, diaspore gem quality).
Is Zultanite expensive?
High quality zultanite up to 1 carat that is eye clean and has an excellent cut will sell for roughly $200 per carat
---
Reference:
Mineralogical characteristics of unusual "Anatolian" diaspore (zultanite) crystals from the İlbirdağı diasporite deposit, Turkey. DOI: 10.1016/j.jafrearsci.2010.01.002