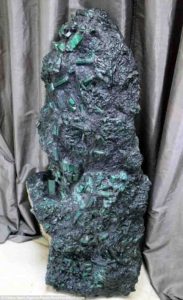 An enormous £238million emerald rock discovered in a gem mining field in Brazil is being kept under heavy security in a secret location as the owner exclusively revealed he is living in fear of kidnapping, extortion and armed robbery.
The private holder, who can only be identified by his initials FG, said the giant stone is extremely rare because of its 'considerable size and the quality of its gigantic crystals'.
He revealed that while it would need a forklift truck to lift the huge cluster of jewels, the risks of a heist are high in Brazil where criminal gangs use explosives to raid banks and carry powerful firearms.
The massive emerald, which weighs 794 pounds (360kg) and stands around 4.3 feet high (1.3metres), was unearthed a month ago, 200 metres deep inside the Carnaiba Mine, a gem-rich mineral exploration area in Bahia, north east Brazil.
The cautious owner said this week: 'I can't reveal anything about the whereabouts of the stone, how it's being kept and how much I paid for it.
'All I can say is the stone is being moved frequently from secure location to secure location under armed guard.
'I cannot take any chances with my family's lives by keeping the stone in one place where it could be found.'
There are only two giant stones with this density of crystals in the world, and according to FG, the other one, the Bahia emerald, which was the subject of a legal dispute over ownership between Brazil and America, 'does not possess the same pure quality as the new Carnaiba emerald'.
The secretive keeper, who is currently finalising the legal paperwork for ownership, described the find as 'a majestic and beautiful monument'.
He said: 'This stone has emerald beryls spread all over it. Their quality is superb and by far the best I've ever seen and I've been in the industry for nearly 30 years.'
Experts predict the impressive jewelled stone, which contains around 180,000 carats of emerald crystals, could fetch around £238million.
The owner, a 50-year-old married father of one, revealed: 'I've already had calls from interested parties including potential buyers fromEurope, Arab Emirates, America, India and China, who are keen to open negotiations.
'Personally, I don't know what the value of this piece is because it will be led by market demands.'
The Carnaiba emerald was found by members of the Bahia Mineral Cooperative, a group of workers legally authorised to explore the area.
FG explained: 'Extracting the stone was extremely difficult. It took ten of us more than a week to get it out because it was 200 metres down in the ground.
'It was cut out of the area, where it was embedded, in one piece and all hands were needed to lift it to the mine shaft where it was raised to the surface by a winch.'
FG paid each member of the Coop for their share of the gemstone, leaving him as the sole owner of the Carnaiba Emerald.
This jumbo jewel was found in the same mine just one hundred metres from where the Bahia emerald was discovered sixteen years ago.
FG said: 'I saw the Bahia emerald when it was found in 2001. It was shaped flat like a basin and they had to chip away at it to reveal the emeralds underneath. Doing that made it lose a little of its value.
'To my recollection the Bahia emerald doesn't compare to my find which is magnificent in height and sumptuous to look at.
'My one has simply been washed down with water to get rid of the dirt and it retains its appeal and value.'
According to reports, the Bahia emerald, which weighed 44 pounds (20 kg) more than the Carnaiba emerald, was illegally taken out of Brazil to the United States.
Although the Brazilian government claimed the emerald cluster, which was valued at 310 million US dollars, should be returned as part of the nation's heritage, judges ruled otherwise in 2015 and the stone remains in America.
A confident FG said there is no risk of this happening to the new Carnaiba discovery.
His lawyer, Marcio Jandir, explained: 'We have done all the issuance of the certificate of origin, a requirement of the Department of Mineral Production.
'The owner of the stone will have the authorisation to do with it legally what he wants. And any transaction will be handled legitimately.'
FG said: 'For now, I'm keeping the rock heavily guarded and out of sight until I reach a decision on whether to sell it or display it in museums here in Brazil.'
Hatton Garden emerald expert Marcus McCallum commented: 'This is not the type of emerald used for making jewellery, it's more a collector's item which would look spectacular as an ornament in the foray of a wealthy home or make exceptional viewing in a museum.'
"Bahia Emerald" World's Largest Emerald
"Teodora" World's Largest Emerald is Fake !!
Note: The above post is reprinted from materials provided by Daily Mail.