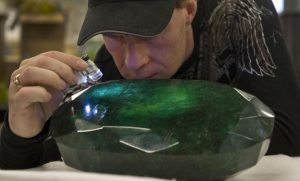 The world's largest cut emerald is set to go up for auction – and is expected to fetch $1.15million.
The 57,500-carat stone, which is the size of a watermelon, is scheduled to go under the hammer tomorrow by Western Star Auctions in British Columbia.
The gem, named Teodora, was found in Brazil and cut in India, before being sold to rare gems dealer Reagan Reaney in Calgary – but there are doubts over whether it is in fact a true emerald.
Real Emerald: "Bahia Emerald" World's Largest Emerald
A BIG GREEN FAKE?
Emeralds are a green form of the mineral beryl, which is usually white. White beryl is so common that it's worthless. But green beryl–emeralds–is rare and worth a lot of money. The darker the green, the more an emerald is likely to be worth.
As a result, many dishonest people dye white beryl green. Then they pass off their fakes as emeralds. Some gem experts say that Teodora is too big to be a real emerald. They think it must be white beryl that has been dyed.
Jeff Nechka, a gem expert in western Canada, was brought in to test Teodora to see if it's real. "At first I was very skeptical," says Nechka. "Anything this large occurring in nature is extremely rare."
Nechka did find evidence that Teodora had been dyed. However, he says other factors—like its structure—show that it started off as a genuine green emerald. Someone simply dyed it a darker shade of green in an attempt to make it worth more. Nechka is the one who estimated that Teodora is worth $1.15 million, even with the dye job.
Both Nechka and Teodora's current owner, Regan Reaney, say that it could be sold at auction for much more.
Shane McClure, director of GIA's West Coast Identification Service, who cautions he hasn't looked at the stone, says that, if there is any white beryl in the stone, GIA would likely term it "beryl with zones of emerald."
But the presence of dye brings up further doubts.
"We probably would not call it emerald no matter what," he says. "They seem to think there is indication of natural green coloration but we wouldn't call it emerald in any case."
Owner Of Emerald Arrested
Reaney's arrest was as a result of fraud offenses, said RCMP Constable Kris Clark reported :
"The Kelowna RCMP became aware of his warrants through interaction with Reaney and made the arrest once Ontario agreed to return him to their jurisdiction. Reaney is known to police in Ontario, but is new to Kelowna and had no other dealings with the RCMP here." Read the report by the Kelowna Daily Courier.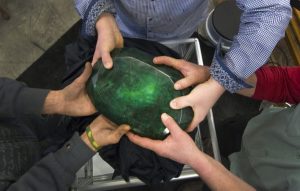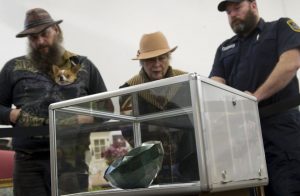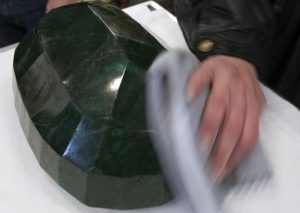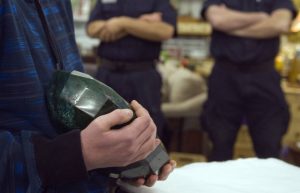 Reference:
TheHuffingtonPost: Regan Reaney Arrested: Owner Of World's Largest Emerald Held, Gem Unsold At Auction
Toronto Star Newspapers: Giant emerald unsold at Kelowna auction after co-owner arrested
Reed Exhibitions: "World's Largest Emerald" May Not Be All Emerald
Scholastic Inc: The World's Biggest Emerald?