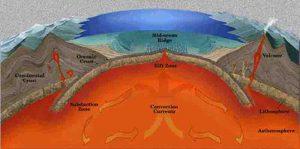 A team of University of Oregon scientists is home after a month-long cruise in the eastern Mediterranean, but this was no vacation. The focus was the plumbing system of magma underneath the island of Santorini, formed by the largest supervolcanic eruption in the past 10,000 years.
The expedition — led by UO geologists Emilie Hooft and Doug Toomey under a National Science Foundation grant — included British, Greek and U.S. researchers on board the U.S. Research Vessel Marcus G. Langseth. Five UO graduate students and one undergraduate student were on board, and another UO graduate student helped install seismometers on the nearby island of Anafi.
Data collected with seismometers will now be analyzed using large parallel computers to build maps and understand the structure of the magma plumbing system that lies 10 to 20 kilometers, or six to 12 miles, under the seafloor. Little is known about magmatic systems at deep depths.
Photo of two UO grad students prepping a seismometer for deployment"The goal is to understand the deep roots, or magma plumbing system, of an arc volcano," Hooft said. "We have some idea of how shallow magma bodies are shaped, but the magmatic system that lies in the deep crust remains poorly understood and difficult to study. It is in this region that magmas from the mantle undergo chemical processes to form the rock compositions that presumably dominate the continental lower crust."
Santorini, besides being an idyllic vacation spot, is perfect for tackling the problem of imaging the deeper roots of a volcano, Hooft said. The island recently has experienced significant unrest linked to magma recharge, including inflation of the ground and intense earthquake swarms.
Since Santorini is a semi-submerged volcanic system, the scientific team was able to collect a very large 3D marine-land seismic dataset using seismic-sound detecting equipment towed behind the R/V Marcus G. Langseth, which is the most-sophisticated seismic vessel in the world's academic fleet. The equipment generates bubbles of compressed air to produce pressure waves. At the seafloor, the waves enter rocks and return a clean seismic signal as they proceed under the seabed to the roots of the volcanic system.
If successful, the data will provide the structure of the deep magma system and its surroundings in 10 times more detail than any other volcano on Earth. Researchers dropped 91 specially designed seismometers to the seafloor and installed another 65 land seismometers on Santorini and nearby islands. The entire onshore-offshore network recorded the seismic signaling more than 14,000 times.
The scientists mapped new regions of the seafloor, revealing the structure of faults and landslides between the islands of Santorini and Amorgos. These measurements may help resolve questions related to the largest 20th century earthquake in Greece, which occurred in 1956, and its accompanying tsunami.
Video
Note: The above post is reprinted from materials provided by University of Oregon. The original item was written by Jim Barlow.