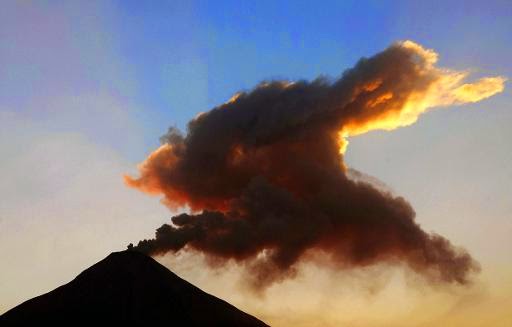 An explosion on western Mexico's Volcano of Fire blew out a giant column of ash on Friday that rained down on some towns in two states.
The ash cloud rose five kilometers (three miles) above the volcano in the state of Colima, but it did not pose an immediate threat to the population, the interior ministry said in a statement.
The volcano spewed hot, dry rock and gases two kilometers from the crater.
The ash cloud traveled a distance of 25 kilometers, and a "light ash fall" was reported in the town of Queseria, Colima, and the towns of Tonila and Zapotiltic in the neighboring state of Jalisco, the statement said.
"We recommend that people cover their nose and mouth, protect sources of potable water, and avoid dumping ash in drainage systems because it hardens with the moisture," national civil protection coordinator Luis Felipe Puente told Foro television.
An explosion had been expected ever since a dome formed inside the crater in January 2013, and the formation needed to break, Puente said.
The explosion was weaker than in March 2005, when the crater registered its biggest volcanic activity in almost a quarter century, he added.
Note : The above story is based on materials provided by © 2014 AFP