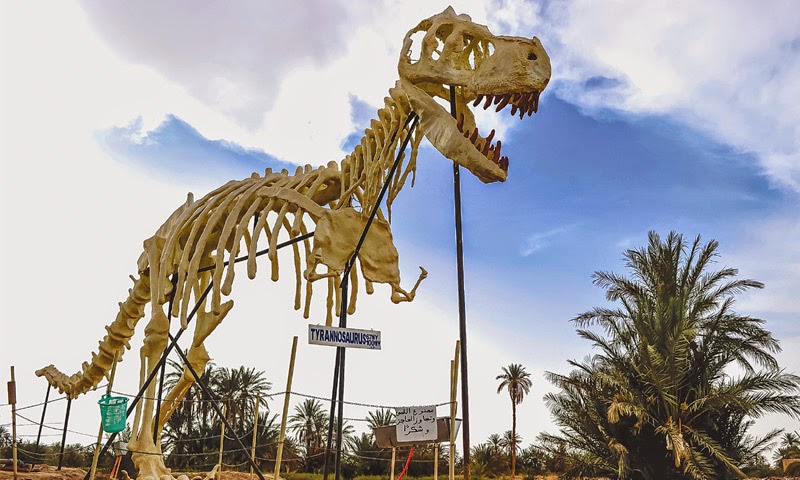 ERFOUD: In the middle of a sprawling palm grove in Morocco's remote eastern desert, inhabitants of an oasis town watch over a rare and vanishing treasure.
At the entrance of a traditional town house visitors are welcomed by a piece of Erfoud's unusual bounty: the petrified skeleton of a prehistoric creature.
This huge ammonite is one of hundreds of archaeological jewels in and around the town of 30,000 people, which geologists and archaeologists have called "the largest open air fossil museum in the world".
During the Palaeozoic era — about 540 million to 250 million years ago — the southeast of Morocco lay under the sea, according to Abdelmajid Messoudi, who runs a gift shop in the town.
Local collector Abdeslam Kassmi says the area is today home to "close to 500 varieties of fossils spread over 100 square kilometres [40 square miles]" including trilobites, which are between 410 and 500 million years old.
But scientists warn that over-excavation and lax controls on fossil sales are seriously damaging Erfoud's archaeological and cultural heritage.
In the town's museum, once an exhibition space, a fine cloud of dust hangs above craftsmen who are working to cut, carve and polish the fossils pulled from the ground.
After transporting blocks of stone from a quarry on the outskirts of town, "workers cut them into pieces, then the artisans sculpt them into diverse objects such as fountains, bathtubs and even tables," Massoudi says.
In a region traditionally renowned for its dates — Morocco is one of the world's largest producers — the fossil trade is a rare year-round source of sustainable income for the people of Erfoud.
It also allows the town to attract tourists, some of whom are seeking to enlarge their prehistoric collections.
'Scientific value'
Ibrahim, a craftsman in his 60s, has spent half his life sculpting fossils, a discipline he says requires "time, dexterity and patience".
"You need to work slowly so you don't damage these pieces, which are often very valuable. Working on just one stone can take up to 20 hours," said Ibrahim.
Away from the artisans and artefacts of Erfoud's museum, several other buildings house some of the town's rarest and oldest fossils.
In one of these treasure troves, Kassmi jealously guards dozens of items.
Their value is hard to estimate. While some of the smallest pieces are available to buy — with prices starting at around 300 euros ($380) — others are part of Kassmi's private collection that he has established "as a legacy for generations to come," he says.
Among fossils telling the prehistoric history of the area are petrified skeletons of dinosaurs dating back 65 million years as well as the solidified remains of turtles and crocodiles.
But such historical jewels are under threat, according to Lachen Kabiri, professor at the nearby University of Errachidia.
He cites over-excavation, the rise in exploration sites and traders selling fossils at knock-down prices as causes for concern.
"Erfoud is world famous but its scientific development" is lacking, he says.
Morocco's desert southeast is part of a network of biosphere reserves protected by Unesco and a 1970 agreement that prevents the illegal import and export of cultural artefacts in these areas.
Without specifically mentioning fossils, a Moroccan law also prohibits the illicit trade.
Nevertheless, rare fossils are available to buy in bazaars across Morocco's southeast, and even in the tourist hotspot of Marrakech. Many end up in museums in Europe and North America.
No data exists on the rate of fossil theft in the region, but Kabiri wants Moroccan authorities to create "ecological reserves" and increase efforts to track down and regain Ersoul's stolen ancient riches.
Video : Fossil treasures at risk in Morocco desert town
Note : The above story is based on materials provided by AFP