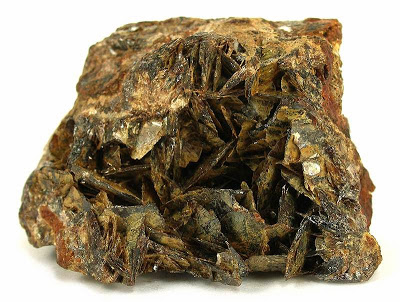 Chemical Formula: PbSbClO2
Locality: Djebel Nador, Constantine, Algeria.
Name Origin: Named for the locality
Nadorite is a mineral with the chemical formula PbSbClO2. It crystallizes in the orthorhombic crystal system and is brown, brownish-yellow or yellow in colour, with a white or yellowish-white streak.
Nadorite is named after Djebel Nador in Algeria, where it was first identified in 1870. Djebel Nador and Djebel Debbar (both in the Constantine Province of Algeria) are its co-type localities.
History
Discovery date : 1870
Town of Origin: DJEBEL NADOR ET DJEBEL DEBAR, QACENTINA (CONSTANTINE)
Country of Origin: ALGERIE
Optical properties
Optical and misc. Properties: Translucide
Refractive Index: from 2,30 to 2,40
Axial angle 2V : LARGE
Physical Properties
Cleavage: {010} Perfect
Color:     Brown, Brownish yellow, Grayish brown, Yellow.
Density: 7.02
Diaphaneity: Translucent
Fracture: Brittle – Generally displayed by glasses and most non-metallic minerals.
Hardness: 3.5-4 – Copper Penny-Fluorite
Luster: Adamantine – Resinous
Streak: yellow white
Photos: