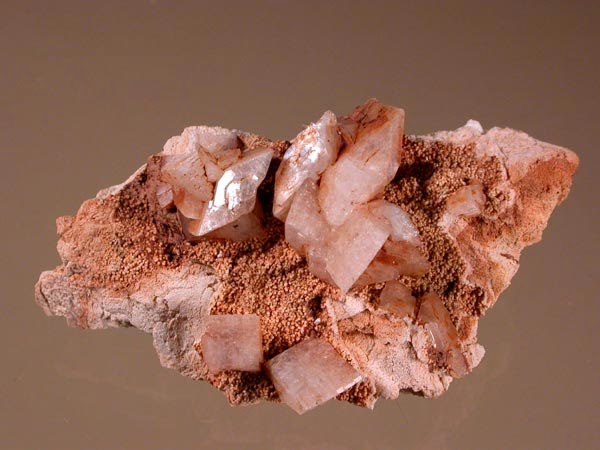 Chemical Formula:
(Ca,Na)
2-3
Al
3
(Al,Si)
2
Si
13
O
36
·12H
2
O
Locality:
Glasgow, Strathclyde (Dumbartonshire), Scotland.
Name Origin:
Named after the English mineral collector, John Henry Heuland (1778-1856), a British mineral collector and dealer. Ca modifier added by zeolite nomenclature committee.
Heulandite is the name of a series of tecto-silicate minerals of the zeolite group. Prior to 1997, heulandite was recognized as a mineral species, but a reclassification in 1997 by the International Mineralogical Association changed it to a series name, with the mineral species being named:
Heulandite-Ca
Heulandite-Na
Heulandite-K
Heulandite-Sr
Heulandite-Ba (described in 2002).
Heulandite-Ca, the most common of these, is a hydrous calcium and aluminium silicate, (Ca,Na)2-3Al3(Al,Si)2Si13O36·12H2O. Small amounts of sodium and potassium are usually present replacing part of the calcium. Strontium replaces calcium in the heulandite-Sr variety. The appropriate species name depends on the dominant element. The species are visually indistinguishable, and the series name heulandite is still used whenever testing has not been performed.
Physical Properties
Cleavage: {010} Perfect
Color:    White, Reddish white, Grayish white, Brownish white, Yellow.
Density: 2.2
Diaphaneity: Transparent to subtranslucent
Fracture: Brittle – Generally displayed by glasses and most non-metallic minerals.
Hardness: 3-3.5 – Calcite-Copper Penny
Luster: Vitreous – Pearly
Streak: white
Photos :