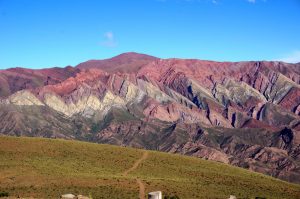 The Serrania del Hornocal is one of the wonders of the province of Jujuy, a limestone formation with different types of minerals being eroded stripped a symphony of colors on the mountainsides.
It is a landscape that calls be contemplated, to stand in front of him for a moment, or for a long time in which we would not feel hardly insignificant. In the viewpoint streaks color, triangular shapes in this particular rainbow some say, reaches the 33 shades are appreciated. It is an example of sedimentation layers, colors are formed by a limestone ranging from ocher, green, yellow, and even white.
These strata were underground for thousands of years, when the formation of the mountains did with his long process, the effect to expose the color. Today we see the fractured rocks making frame the panoramic views. And not feel further push to contemplate and take good pictures. One of the most famous viewpoints of this mountainous area is about 25 kilometers along Provincial Route 73, from the city of Humahuaca.
Get only takes about 40 minutes of gravel road to a viewpoint facing the hill. We will face a silent and majestic spectacle, no less than 4,300 meters Another of the great beauties of the Quebrada, although in this case, less known and visited. Another point to consider is the tour schedule to arrive in the afternoon, when the sun will handle highlight the colors on the mountainside. At that time, we can imagine the grandeur of these landscapes in the time still lived the Incas.
In fact, the entire Humahuaca was the landscape under a section of this historical journey of thousands of kilometers that was born in Ecuador and quite stretched further south in Argentina. Today, both the Inca Trail as the Quebrada are recognized as World Heritage sites by UNESCO, a recognition that is easily explained by the cultural value and natural beauty combined. And yet, amid so much majesty and both tourist takeoff, these landscapes little or nothing has changed, and remain under the reign of silence, clouds, and the cycles of the sun: a show full time you can enjoy all year.
The mountains reach an altitude of 4761 meters above sea level.
Photos
Serranía de Hornocal, Argentine
Map
References:
Wikipedia: Serranía de Hornocal
Argentina: Mirador del Hornocal: el secreto del Norte
Photo Copyright © Trip Advisor