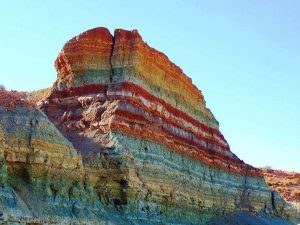 It's Outcrop of sedimentary rocks of the Albian "Early Cretaceous".
Metlili is a town and commune, and capital of Métlili District, in Ghardaïa Province, Algeria.
Metlili lies at an elevation of about 500 metres (1,600 ft) in a valley running from northwest to southeast between arid, rocky hills. The town is about 12 kilometres (7.5 mi) from end to end, but only about 0.5 kilometres (0.31 mi) wide.
Photos