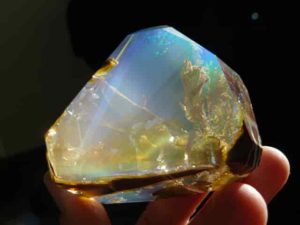 Opals are made out of rhyolite, basalt, sandstone, marl and rhyolite. A common source of opals are rhyolite geodes. The rocks, which means they have no properties of crystals, are known as mineraloids. It's a silicon dioxide crystal-like product that is placed in cracks and cracks in rock at a somewhat low temperature.
Opals are also a gel high in a liquid content ranging from 3 to 30 percent water, but the opal gel acts as a solid. They're essentially a silica spray! They can be quite cool and fragile, making it hard to hold them for jewelry after mounting.
Types of opals include: common and precious opals. Oregon opals include the types, rainbow, ryalite, contra luz, hydrophane, crystal, fire, blue, and dendritic.
Where to Find Opals in Oregon?
Baker County
Conner Creek Mining District "Baker Co."
Swayze Creek "Baker Co."
Clackamas County
Clackamas River localities "Clackamas Co."
Oak Grove Fork "Clackamas Co."
Columbia County
Neer Road, Goble "Columbia Co."
Crook County
Howard Mining District (Ochoco Mining District; Bolivar Mining District) "Crook Co."
Deschutes County
Newberry Caldera, East Lake "Deschutes Co."
Harney County
Pueblo Mining District (Denio Mining District) "Harney Co."
Hood River County
Pucci drillhole "Hood River Co."
Jackson County
Ashland Mining District "Jackson Co."
Butte Creek Mining District "Jackson Co."
Evans Creek Mining District "Jackson Co."
Meadows Mining District "Jackson Co."
Jefferson County
Richardson Ranch (Priday Ranch), Madras "Jefferson Co."
Klamath County
Oregon Technical Institute Occurrence "Klamath Co."
Summit Rock "Klamath Co."
Lake County
Christmas Valley pit, Christmas Valley "Lake Co."
Hart Mountain "Lake Co."
Juniper Ridge Opal Mine "Lake Co."
Oregon Sunstone public collection area, Plush "Lake Co."
Spectrum Mine, Plush "Lake Co."
Madera Occurrence, Quartz Mountain "Lake Co."
Quartz Mountain Gold Deposit (Fremont; Quartz Mountain Property), Quartz Mountain "Lake Co."
School Creek Prospect "Lake Co."
Malheur County
Brandon Occurrence (Quartz Mtn.; Glassy Butte) "Malheur Co."
Owyhee Dam, Lake Owyhee State Park "Malheur Co."
Aurora Uranium Prospect, Opalite District (McDermitt District) "Malheur Co."
Rome Zeolite Occurrence "Malheur Co."
Sheaville Zeolite Occurrence "Malheur Co."
Succor Creek "Malheur Co."
Marion County
Breitenbush Hot Springs Cinnabar Occurrence, Santiam District (Elkhorn District) "Marion Co."
Morrow County
Opal Butte "Morrow Co."
Opals are found nearly everywhere in the world, but how are we going to get to Oregon and find those deep wonders? The Juniper Ridge Opal mine is the site of a major opal discovery and development that has been going on for 30 years before being abandoned. After spending two years discovering and taking over the abandoned claim in 1998, a father and son team, Ken and Chuck Oldham, formed a group of lapidaries and miners. They opened it for a form of mining called "fee dig" mining after mining the claim for years.
Fee Dig mining is simple! Pay a small fee, get a little training and a spot to mine, and take away whatever you find!
Opal Butte is a mountain top close to Hepner City in Morrow County, Oregon. There is a working mine in operation since 1988, but it has been known since the 1800s, when opals were not regarded as important. There is a mine in the West Coast Mining Company, marketing opals through its outlets.
Klamath County, Oregon hosts Opal Creekand Klamath Falls, where opals have been found. The Favell museum in Klamath falls actually boasts an arrowhead made of fire opal!
---