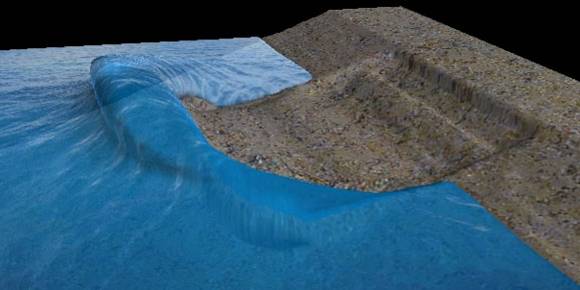 Australia's coastline may be vulnerable to rare landslides with potentially disastrous consequences, according to ongoing research by the University of Sydney.
Undertaken by the University's School of Geosciences, the research is detailed in a chapter in Southern Surveyor: Stories from on board Australia's ocean research vessel, a new book from CSIRO Publishing.
It's hard to understand how these slopes ever fail yet the evidence is they can, because there are enormous scars, or scoops, along the continental margin from Bateman's Bay to Fraser Island," said Associate Professor Tom Hubble, lead researcher on the project.
"One of the largest examples of these continental scars is located off Bulli in New South Wales, and is 16 kilometres long, nine kilometres wide and roughly 300 to 400 metres thick."
Importantly, the landslide events and the earthquakes that could trigger them are considered to be extremely rare, according to Associate Professor Hubble and his team.
"You might get one landslide every 10,000 years that could generate a wave of more than five metres in height. A wave height of more than 20 metres would only occur every 100,000 or even every million years.
"The big questions for us are how many, how big and how often? And we're making some progress on this.
"We have actually identified 400 landslides that have occurred over the last 4 million years that are big enough to have generated a tsunami, most of which would have generated a tsunami with a one to two metre wave height.
"Around 50 to 100 of these could have generated something around five to 10 metres in wave height, which is the size of the tsunamis that came through Indonesia and Japan.
"We need to do more investigation to constrain these numbers reliably."
Researchers believe the landslides could be triggered by large earthquakes, likely of magnitude six to seven, and are now investigating this theory.
"We are interested in conducting further studies in a section referred to as 'the Block' near Brisbane, which is about half a kilometre thick and 10 kilometres long, and has noticeable tension cracks.
"If an earthquake of the right magnitude occurred, we believe it could trigger a significant tsunami," Associate Professor Hubble said.
Understanding these scoops and their potential sites, as well as their tsunami generating capabilities, has so far been restricted by the sonar technology on board the vessel Southern Surveyor, which could only map the sea floor to 3000 metres. The continental slope begins about 50 kilometres off the Australian coast and drops away to the abyssal plain, which is 4000 to 5000 metres deep.
Southern Surveyor: Stories from on board Australia's ocean research vessel follows the adventures of the men and women on board the CSIRO Marine National Facility research vessel over the course of a year, as told by author Michael Veitch.
For 10 years, the Southern Surveyor represented the vanguard of Australian blue water marine science. On more than 100 voyages, this former North Sea fishing trawler with her distinctive blue and white livery carried scientists and technicians across the Southern, Pacific and Indian Oceans as well as the waters off northern Australia.
Note: The above post is reprinted from materials provided by University of Sydney.