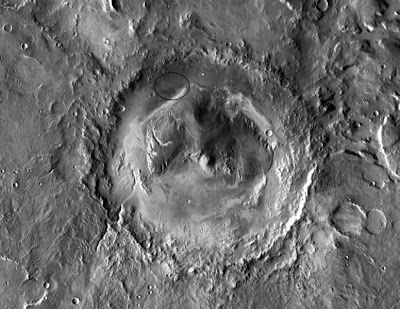 Data collected on Mars by NASA's Curiosity rover and analyzed by University of Arkansas researchers indicate that water, in the form of brine, may exist under certain conditions on the planet's surface.
The finding, published in the May 2015 issue of the journal Nature Geoscience, is based on almost two years of weather data collected from an impact crater near the planet's equatorial region. Vincent Chevrier, an assistant professor at the University of Arkansas Center for Space and Planetary Sciences, and Edgard G. Rivera-Valentin, a former Doctoral Academy Fellow at the center who is now a scientist at the Arecibo Observatory in Puerto Rico, were members of the team that analyzed the data as part of a grant from NASA.
"What we demonstrated is that under specific circumstances, for a few hours per day, you can have the right conditions to form liquid brines on the surface of Mars," Chevrier said.
The existence of briny water may explain a phenomenon observed by Mars orbiters called "recurring slope lineae," which are dark streaks on slopes that appear and grow during the planet's warm season.
Water is also necessary for the existence of life as we know it, and on Earth, organisms adapt and thrive in extremely briny conditions. Chevrier, however, believes that conditions on Mars are too harsh to support life.
"If we combine observations with the thermodynamics of brine formation and the current knowledge about terrestrial organisms, is it possible to find a way for organisms to survive in Martian brines? My answer is no," he said.
Mars is cold, extremely dry, and has 200 times lower atmospheric pressure than Earth. Any pure water on the surface would freeze or boil away in minutes. If it sounds alien for water to both freeze and boil, that's because it is alien to Earth, but not so much for Mars because of the planet's very low atmospheric pressure.
However, in 2008, NASA's Phoenix lander identified perchlorate salts in polar soil samples. Perchlorates are rare on Earth, but they are known to absorb moisture from the atmosphere and lower the freezing temperature of water. The widespread existence of perchlorates makes liquid water possible on Mars.
The Curiosity rover confirmed the existence of perchlorates in equatorial soil, and provided detailed observations of relative humidity and ground temperature in all Martian seasons. With that data in hand, Chevrier and Rivera-Valentin were able to conclude that liquid brines can exist today on Mars. Future Mars missions could sample for the brines directly.
Though the briny water on Mars may not support life, it does have implications for future manned missions that would need to create life-sustaining resources such as water and oxygen on the planet, Chevrier said. There is also the possibility that life once existed on ancient Mars.
"We need to understand the earliest environment," he added. "What was happening 4 billion years ago?"
Reference:
F. Javier Martín-Torres, María-Paz Zorzano, Patricia Valentín-Serrano, Ari-Matti Harri, Maria Genzer, Osku Kemppinen, Edgard G. Rivera-Valentin, Insoo Jun, James Wray, Morten Bo Madsen, Walter Goetz, Alfred S. McEwen, Craig Hardgrove, Nilton Renno, Vincent F. Chevrier, Michael Mischna, Rafael Navarro-González, Jesús Martínez-Frías, Pamela Conrad, Tim McConnochie, Charles Cockell, Gilles Berger, Ashwin R. Vasavada, Dawn Sumner, David Vaniman. Transient liquid water and water activity at Gale crater on Mars. Nature Geoscience, 2015; 8 (5): 357 DOI: 10.1038/ngeo2412
Note: The above story is based on materials provided by University of Arkansas, Fayetteville.