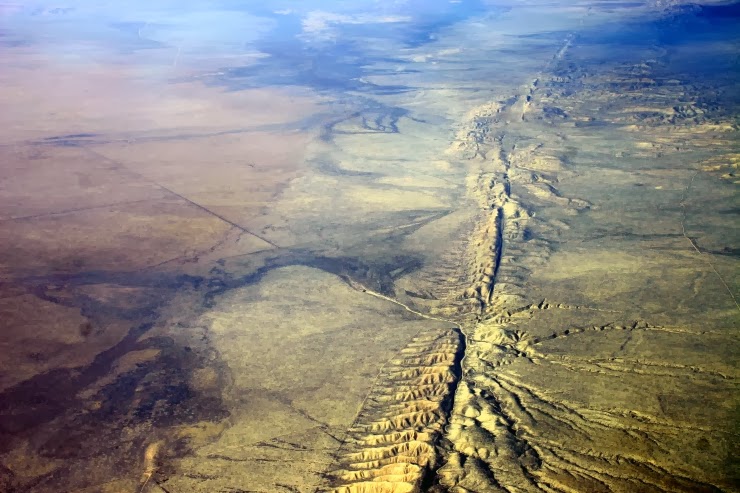 Several geologists from around the world are presenting a case for missing or underreported earthquakes at this year's American Geophysical Union Fall meeting being held in San Francisco. They suggest that faulty or missing data from before 1900 might be leading to underestimations of the numbers of big quakes to expect in the future.
One such speaker is Susan Hough—she's with the US Geological Survey. She reported to those in attendance that prior to the invention and implementation of seismometers, evidence of earthquakes could be found only through earlier anecdotal writings. But such records, she notes, tended to underestimate the size of the quakes being described. Suddenly, she says, after 1900, earthquakes started getting bigger.
They didn't get bigger of course, what she meant was that the size perception of earlier earthquakes had been underestimated—many might not be in the historical record at all. Part of the problem, she explained, was that until fairly recently, it was believed that all earthquakes of a certain large size, produced tsunami's, which of course tend to show up in written records.
The problem with relying on underestimated data, she also explained, is that it causes modern day planners to underestimate what is likely to happen in the future. She notes that one example was that of the Kamchatka quake that occurred in 1841 in Russia. The record shows it to have been an 8.3 magnitude quake, but closer scrutiny suggests that estimate was wrong—reports of a tsunami in Hawaii at the time, indicate it was almost certainly much stronger, perhaps as high as magnitude 9.2.
Roger Musson of the British Geological Survey concurred, noting that people were taken almost completely by surprise when the Fukushima quake struck in 2011. But, looking back, it's clear that one almost exactly like it struck in the same place back in the 9th century. He noted virtually the same thing can be said for the Haiti quake that struck in 2010.
The overall point the geologists are trying to make is that it's likely that the reported numbers and sizes of quakes described in the past are in error, and thus, using them as guides for the future is both risky and ill-advised as the lives of people in many at-risk areas may be depending on more accurate assessments.
Note : The above story is based on materials provided by Phys org