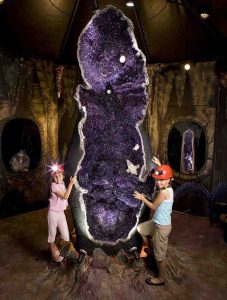 Name: The Empress of Uruguay
Tall: 3.27 Meters
Weigh: 2.5 Tonne
Named The Empress of Uruguay, this is the largest Amethyst Geode in the world. Standing a staggering 3.27 meters tall, the geode weighs 2.5 tonne! Each of the thousands of perfect crystals was formed inside the geode exactly as you see them now, 130 millions years ago.
Discovered in 2007, it took 3 months to extract the geode from the solid basalt which surrounded it. Fortunately it was offered to René as soon as it was excavated otherwise it may have been snapped up by an international natural history museum elsewhere in the world.
When you stand before her and gaze upon the deep purple crystals, you will understand why René did not hesitate for a moment to add this world class specimen to his already impressive collection.
It took a further 2 months to carefully remove small sections of crystals and polish the edge to reveal the opening. Each piece of the Empress was shipped to Atherton and sold in the gift shop.
The world's largest Amethyst geode
Note: The above post is reprinted from materials provided by Crystal Cave.