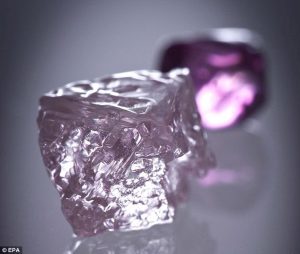 An Australian mining company says it has found a 12.76-carat pink diamond, the largest rough pink diamond found in the country.
The rare diamond was found at Rio Tinto's Argyle diamond mine in Western Australia's East Kimberly region.
Estimated to be worth millions, it has been named the Argyle Pink Jubilee, and is being cut and polished in Perth.
More than 90% of the pink diamonds in the world come from the Argyle mine, a Rio Tinto statement said.
The Argyle Pink Jubilee is a light pink diamond, the company said. It is similar in colour to The Williamson Pink – the diamond found in Tanzania that Queen Elizabeth II received as a wedding gift and which was subsequently set into a brooch for her coronation.
A Rio Tinto spokesperson said that a diamond of this calibre was "unprecedented".
"It has taken 26 years of Argyle production to unearth this stone and we may never see one like this again," said Argyle Pink Diamonds Manager Josephine Johnson.
The Argyle Pink Jubilee – Australia's largest pink diamond –  has been donated by Rio Tinto to Melbourne Museum, home to the nation's most comprehensive natural science display.