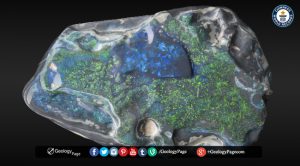 The largest black opal weighs 11,340.95 carats (2,268.19 grams; 80 oz) and measures 2,450 x 1,460 x 527 mm (96.45 x 57.48 x 20.74 in). It is owned by Dallas, Judith, Shannon, Jeffery and Ken Westbrook (all Australia). The black opal was found in Lightning Ridge, New South Wales, Australia.
Gem-like broad flash blue-green play-of-color is seen on this portion of the specimen, while fine iridescent green, blue and vivid orange pinfire play-of-color covers a large extent of the face. True black potch is seen to the reverse.
It's name obtained directly from the miner, it was he who named the specimen "The Sea of Opal". His inspiration was two-fold: the outline of the large raised blue patch of color in the center has a resemblance to a swimming fish and the green flash that is seen at the apex is reminiscent of seaweed. Yet the name also evokes the geology of the region in that the center of the Australian continent was once an inland sea, the mineralized waters of which were responsible for producing the opal which we so admire today.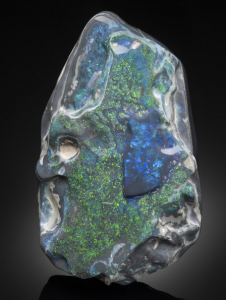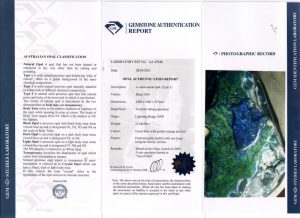 Note: The above post is reprinted from materials provided by Guinness World Records.