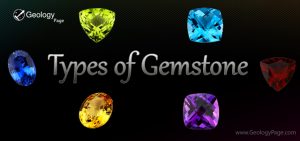 A gemstone or gem is a piece of mineral crystal, which, in cut and polished form, is used to make jewelry or other adornments. However, certain rocks (such as lapis lazuli) or organic materials that are not minerals (such as amber or jet), are also used for jewelry, and are therefore often considered to be gemstones as well. Most gemstones are hard, but some soft minerals are used in jewelry because of their luster or other physical properties that have aesthetic value. Rarity is another characteristic that lends value to a gemstone. Apart from jewelry, from earliest antiquity engraved gems and hardstone carvings, such as cups, were major luxury art forms. A gem maker is called a lapidary or gemcutter; a diamond worker is a diamantaire.
Types of Gemstone
Precious stones
Semi-precious gemstones
Precious Stones
Precious stones are defined as visually appealing gemstones created from rocks or minerals. Often used for jewelry and fashion accents, this term was created in the mid-1800's to refer to four specific stones; diamonds, rubies, emeralds, and sapphires. All precious stones are translucent and are valued by the richness of their color, except for the diamond, which has a higher value based on being colorless. Their rarity, beauty, and method in which they are produced all add to the allure of a precious stone. Any accessory containing a precious stone would be deemed sophisticated and worn by someone of high class.
1-Diamond
Chemical Formula: C
Locality: Kimberly, republic of South Africa. India. Brazil. Ural Mountains, Russia. Murfreesboro, Arkansas, USA.
Name Origin: From the Greek, adamas, meaning "invincible" or "hardest."
In mineralogy, diamond is a metastable allotrope of carbon, where the carbon atoms are arranged in a variation of the face-centered cubic crystal structure called a diamond lattice. Diamond is less stable than graphite, but the conversion rate from diamond to graphite is negligible at standard conditions. Diamond is renowned as a material with superlative physical qualities, most of which originate from the strong covalent bonding between its atoms. In particular, diamond has the highest hardness and thermal conductivity of any bulk material. Those properties determine the major industrial application of diamond in cutting and polishing tools and the scientific applications in diamond knives and diamond anvil cells.
2-Emerald
Color: Emerald Green to Dark Green
Mohs hardness scale: 7.5 – 8
Mineral Class: Beryl
Locality: Found in Columbia, Brazil, Zimbabwe, South Africa, Afghanistan, USA
Emerald is a gemstone and a variety of the mineral beryl (Be3Al2(SiO3)6) colored green by trace amounts of chromium and sometimes vanadium. Beryl has a hardness of 7.5–8 on the Mohs scale. Most emeralds are highly included, so their toughness (resistance to breakage) is classified as generally poor.
3-Ruby
Color: Bright red, brownish-red, purplish-red, dark red
Mohs hardness scale: 9
Mineral Class: Corundum
Locality: Found mainly in Burma, Thailand, Sri Lanka and Tanzania
A ruby is a pink to blood-red colored gemstone, a variety of the mineral corundum (aluminium oxide). The red color is caused mainly by the presence of the element chromium. Its name comes from ruber, Latin for red. Other varieties of gem-quality corundum are called sapphires. Ruby is considered one of the four precious stones, together with sapphire, emerald and diamond.
Prices of rubies are primarily determined by color. The brightest and most valuable "red" called blood-red or "pigeon blood", commands a large premium over other rubies of similar quality. After color follows clarity: similar to diamonds, a clear stone will command a premium, but a ruby without any needle-like rutile inclusions may indicate that the stone has been treated. Cut and carat (weight) are also an important factor in determining the price. Ruby is the traditional birthstone for July and is usually more pink than garnet, although some rhodolite garnets have a similar pinkish hue to most rubies. The world's most expensive ruby is the Sunrise Ruby.
4-Sapphire
Color: Blue, Yellow, Green, White, Colorless, Pink, Orange, Brown and Purple
Mohs hardness scale: 9
Mineral Class: Corundum
Locality: Found mainly in Sri Lanka, Thailand, Burma, Australia, India, Brazil and Africa
Sapphire is a typically blue gemstone variety of the mineral corundum, an aluminium oxide (α-Al2O3). Trace amounts of elements such as iron, titanium, chromium, copper, or magnesium can give corundum respectively blue, yellow, purple, orange, or green color. Chromium impurities in corundum yield pink or red tint, the latter being called ruby.
Commonly, sapphires are worn in jewelry. Sapphires may be found naturally, by searching through certain sediments (due to their resistance to being eroded compared to softer stones) or rock formations. They also may be manufactured for industrial or decorative purposes in large crystal boules. Because of the remarkable hardness of sapphires – 9 on the Mohs scale (the third hardest mineral, after diamond at 10 and moissanite at 9.5) – and of aluminium oxide in general, sapphires are used in some non-ornamental applications, including infrared optical components, such as in scientific instruments; high-durability windows; wristwatch crystals and movement bearings; and very thin electronic wafers, which are used as the insulating substrates of very special-purpose solid-state electronics (especially integrated circuits and GaN-based LEDs).
Semi-precious stones
A semi-precious stone is also known as a gem or gemstone (also a jewel, a gem, a precious stone), which is a portion of mineral, which, in refined and cut form, is used to create jewelry or other embellishments. There are also organic resources or precise rocks that are not minerals (for example jet or amber) that are also used for jewelry and would also be considered to be gemstones, as well. In the West, precious stones are diamonds, sapphires, rubies and emeralds. All other stones are considered semi-precious stones. However, this is a commercial based classification and was a distinction that marketers created years ago which gives the false impression that precious stones are more valuable than semi-precious stones. For example, a Tsavorite green garnet is more valuable than a mid-quality sapphire. It's a concept from the West that often puts misconceived notions of the truth into consumers' minds. So contextually there is a difference between semi-precious and precious but it is mostly for show and strictly from a commercial perspective.
1-Alexandrite
Color: Dark to Pale Green (color is changed in different forms of lights)
Mohs hardness scale: 8.5
Mineral Class: Chrysoberyl
Locality: Found mainly in Russia, Sri Lanka, Brazil, Burma, Madagascar, USA
The alexandrite variety displays a color change (alexandrite effect) dependent upon the nature of ambient lighting. Alexandrite effect is the phenomenon of an observed color change from greenish to reddish with a change in source illumination. Alexandrite results from small scale replacement of aluminium by chromium ions in the crystal structure, which causes intense absorption of light over a narrow range of wavelengths in the yellow region (580 nm) of the visible light spectrum. Because human vision is more sensitive to light in the green spectrum and the red spectrum, alexandrite appears greenish in daylight where a full spectrum of visible light is present and reddish in incandescent light which emits less green and blue spectrum. This color change is independent of any change of hue with viewing direction through the crystal that would arise from pleochroism.
Alexandrite from the Ural Mountains in Russia can be green by daylight and red by incandescent light. Other varieties of alexandrite may be yellowish or pink in daylight and a columbine or raspberry red by incandescent light.
2-Amethyst
Color: Purple, Pale lavender to deep reddish purple, bluish violet
Mohs hardness scale: 7
Mineral Class: Quartz
Locality: Found mainly in Sri Lanka, Brazil, Burma, Canada, East Africa, India, North America, Russia, Uruguay, Madagascar and Australia
Amethyst is a violet variety of quartz often used in jewelry. The name comes from the Ancient Greek ἀ a- ("not") and μέθυστος méthystos ("intoxicated"), a reference to the belief that the stone protected its owner from drunkenness. The ancient Greeks wore amethyst and made drinking vessels decorated with it in the belief that it would prevent intoxication. It is one of several forms of quartz. Amethyst is a semiprecious stone and is the traditional birthstone for February.
3-Aquamarine
Color: Blue, Sea-green
Mohs hardness scale: 7.5 – 8
Mineral Class: Beryl
Locality: Found mainly in Brazil, Madagascar, Russia, Afghanistan, India, Pakistan, Nigeria, Zambia, Mozambique and USA
Aquamarine is a blue or cyan variety of beryl. It occurs at most localities which yield ordinary beryl. The gem-gravel placer deposits of Sri Lanka contain aquamarine. Clear yellow beryl, such as that occurring in Brazil, is sometimes called aquamarine chrysolite. The deep blue version of aquamarine is called maxixe. Maxixe is commonly found in the country of Madagascar. Its color fades to white when exposed to sunlight or is subjected to heat treatment, though the color returns with irradiation.
4-Citrine
Color: Light Yellow, Lemon Yellow, Amber-Brown, Brilliant Orange
Mohs hardness scale: 7
Mineral Class: Quartz
Locality: Found mainly in South America, Brazil, Madagascar, Argentina, Russia, Scotland and Spain
Citrine, the most common reference for which is certain coloured varieties of quartz which are a medium deep shade of golden yellow. Citrine has been summarized at various times as yellow, greenish-yellow, brownish yellow or orange.
The original reference point for the citrine colour was the citron fruit. The first recorded use of citrine as a colour in English was in 1386. It was borrowed from a medieval Latin and classical Latin word with the same meaning. In late medieval and early modern English the citrine colour-name was applied in a wider variety of contexts than it is today and could be "reddish or brownish yellow; or orange; or amber (distinguished from yellow)". In today's English citrine as a colour is mostly confined to the contexts of (1) gemstones, including quartz, and (2) some animal and plant names. E.g., the citrine wagtail (Motacilla citreola), an Asian bird species with golden-yellow plumage.
5-Garnet
Color: Light Red, Violet, Red, White, Green, Yellow, Brown, Black
Mohs hardness scale: 6.5-7.5
Mineral Class: Quartz
Locality: Found mainly in Burma, Sri Lanka, South Africa, China, USA, Tanzania, Madagascar, India and Australia
Garnets are a group of silicate minerals that have been used since the Bronze Age as gemstones and abrasives.
All species of garnets possess similar physical properties and crystal forms, but differ in chemical composition. The different species are pyrope, almandine, spessartine, grossular (varieties of which are hessonite or cinnamon-stone and tsavorite), uvarovite and andradite. The garnets make up two solid solution series: pyrope-almandine-spessartine and uvarovite-grossular-andradite.
6-Grossular
Grossular is a calcium-aluminium mineral species of the garnet gemstone group with the formula Ca3Al2(SiO4)3, though the calcium may in part be replaced by ferrous iron and the aluminium by ferric iron. The name grossular is derived from the botanical name for the gooseberry, grossularia, in reference to the green garnet of this composition that is found in Siberia. Other shades include cinnamon brown (cinnamon stone variety), red, and yellow.
Grossular should not be called grossularite, grossularite was once a type of rock.
7-Pyrope
The mineral pyrope is a member of the garnet group. Pyrope is the only member of the garnet family to always display red colouration in natural samples, and it is from this characteristic that it gets its name: from the Greek for fire and eye. Despite being less common than most garnets, it is a widely used gemstone with numerous alternative names, some of which are misnomers. Chrome pyrope, and Bohemian garnet are two alternative names, the usage of the latter being discouraged by the Gemological Institute of America. Misnomers include Colorado ruby, Arizona ruby, California ruby, Rocky Mountain ruby, Elie Ruby, Bohemian carbuncle, and Cape ruby.
8-Almandine 
Almandine, also known incorrectly as almandite, is a species of mineral belonging to the garnet group. The name is a corruption of alabandicus, which is the name applied by Pliny the Elder to a stone found or worked at Alabanda, a town in Caria in Asia Minor. Almandine is an iron alumina garnet, of deep red color, inclining to purple. It is frequently cut with a convex face, or en cabochon, and is then known as carbuncle. Viewed through the spectroscope in a strong light, it generally shows three characteristic absorption bands.
9-Rhodalite
Rhodolite is a varietal name for rose-pink to red mineral pyrope, a species in the garnet group. It is found in Cowee Valley, Macon County, North Carolina. The name is derived from the Greek for "rose-like", in common with many pink mineral types (e.g. rhodochrosite, rhodonite). Rhodolite itself is not officially recognized as a mineralogical term. This coloration, and the commonly inclusion-free nature of garnet from this locality, has led to rhodolite being used as a semi-precious gemstone.
10-Iolite
Color: Violet-Blue, Deep Blue, Light Blue-Gray, Yellow-White
Mohs hardness scale: 7 – 7.5
Mineral Class: Cordierite
Locality: Found mainly in India, Sri Lanka, Mozambique, Zimbabwe and Brazil
The name Iolite comes from the Greek word 'Ion', which means 'Violet'. Iolite is often confused with Tanzanite because of its similarity in color. Generally, Iolite is a deeper shade of violet, with hues ranging from deep blue, purple, lavendar, and gray-blue.
This gem was actually used as a navigation tool by Viking explorers. Thin pieces of Iolite were cut and used as polarizing filter lenses. Looking through the lens, they could determine the exact position of the sun and use it to guide them to the New World and back.
Iolite is relatively hard but should be protected from blows. With its attractive color and reasonable price, it may become a jewelry staple in the future.
11-Onyx
Color: Black, White, Black with White bands, Red, Brown
Mohs hardness scale: 6.5 – 7
Mineral Class: Quartz
Locality: Found mainly in Madagascar, India, Brazil, United States, Pakistan and Sri Lanka
Onyx is a banded variety of the oxide mineral chalcedony. Agate and onyx are both varieties of layered chalcedony that differ only in the form of the bands: agate has curved bands and onyx has parallel bands. The colors of its bands range from white to almost every color (save some shades, such as purple or blue). Commonly, specimens of onyx contain bands of black and/or white.
12-Opal
Color: Black, White, Gray, Yellow, Red, Orange and Colorless
Mohs hardness scale: 5 – 6.5
Locality: Found mainly in Australia, Brazil, Mali, Japan, Russia, USA, Mexico
Opal is a very popular gemstone, mainly due to its wonderful variety of rich and beautiful colors. One of the extraordinary features of this gemstone is called Opalescence. Opalescence is a kind of light play that happens with certain high quality stones. Light reflects and bounces around the very small structures of the stone, giving it a wonderful aura and sometimes iridescence.
The name Opal is derived from three sources: Sanskrit 'Upala', Latin 'Opalus', and Greek 'Opallios'. All three of these words mean the same thing – precious stone. The group of fine Opals includes quite a number of wonderful gemstones. These gemstones are differentiated on the basis of the variety, place of occurrence, and color of the main body, into Dark or Black Opal, White or Light Opal, Milk or Crystal Opal, Boulder Opal, Opal Matrix, Mexican and Fire Opal.
Opals come in many colors, including black, white, gray, yellow, colorless, orange and red. Red is considered the most popular and attractive colors that Opal comes in. There are usually two types of red colors – cherry red and fire red. Fire red is usually the most popular and possibly the most expensive due to its wonderful hue.
Australia is the major supplier of Fine Opals and almost 95 per cent of all Opals come from Australian mines. Opal is made from sand and water. It has the same chemical formula as quartz with the addition of 3 to 10 % water content. And due to this reason, opals must be protected from harsh light and heat, which could dry it out and cause cracks. Opal is relatively less hard than many other stones and must be worn with caution and care to avoid chips or other breakage. Opals come in many attractive colors, shapes and sizes and are used on many types of ornamental jewelry including rings, earring rings, brooches, charms, bracelets, etc.
13-Pearl
Color: White, White tinted with Cream, Pink, Yellow, Green, Blue, Brown, Purple, or Black.
Mohs hardness scale: 2.5 – 4.5
Locality: Found mainly in Persian Gulf, China Sea
A Pearl is an organic gem, produced when certain mollusks, primarily oysters cover a foreign object with beautiful layers of nacre. A good sized Pearl can take between five to eight years to form, which is usually the entire life of the oyster or mollusk.
There are two types of Pearls: Natural Pearls, formed inside wild oysters, practically impossible to find nowadays, and Cultured Pearls in which the production of the pearl is artificially induced. For producing cultured pearls, shell beads are placed inside an oyster and the oyster is returned to the water. When the pearls are later harvested, the oyster has covered the bead with layers of nacre. The finest Natural Pearls are fished almost exclusively from the Persian Gulf and the China Sea, while the best cultivated ones come from Japan, Korea and more recently Australia. Fine Natural Pearls are much more expensive and rare to find than Cultured Pearls.
Pearls are usually white, sometimes with a creamy or pinkish tinge, but may be tinted with yellow, green, blue, brown, purple, or black. Pearls are available in different shapes: round, semi-round, button, drop, pear, oval, baroque, and ringed. Perfectly round Pearls are the rarest and most expensive. Pearl is a rare and living substance and should be treated with great care.
14-Peridot
Color: Yellow Green, Olive, Brownish Green
Mohs hardness scale: 6.5 – 7
Mineral Class: Olivine
Locality: Found mainly in Australia, Mexico, Sri Lanka, South Africa, Tanzania, China, Burma, Arizona, USA, Pakistan, Afghanistan
The Peridot is a very old but still very popular gemstone. It is a verity of mineral olivine. The color of most gemstones is caused by traces of other elements but the color of Peridot is an integral part of its structure. Chemically Peridot is an iron-magnesium-silicate. The intensity of the color of the stone depends upon the amount of iron contained. The beauty of Peridot is a result of extreme conditions. Peridot is formed deep within the earth under tremendous heat and pressure.
This gemstone is in fact identified by three names, Peridot, Chrysolith and Olivin. 'Peridot' is derived from Greek word 'Peridona', which mean 'giving plenty'. The word 'Chrysolith' means 'goldstone' in Greek. It is one of the few stones that exist only in one color. The most beautiful Peridot comes from Pakistan-Afghanistan border region. It is also found in Australia, Mexico, Sri Lanka, South Africa, Tanzania, China, Burma, Arizona and USA. Peridot is used in rings, earrings, pendants, bracelets.
15-Tanzanite
Color: Deep Blue, Ultramarine Blue, Light Violet-Blue, Purple
Mohs hardness scale: 6 – 7
Mineral Class: Quartz
Locality: Found in Tanzania
Tanzanite is an extraordinary and beautiful gemstone. Tanzanite is a blue variety of the gemstone zoisite discovered in 1967 at Merelani Hills in Tanzania. It is named after the East African state of Tanzania, the only place in the world where it has been found. Due to this reason, this stone is particularly highly prized.
Tanzanite is a trichroic gem which displays three layers of color. The colors dark blue, green-yellow and red-purple can be seen. Nearly all tanzanite has been heat treated to generate the beautiful violet-blue color this stone is known for.
Although Tanzanite is relatively new on the gemstone market, but has left its mark. Tanzanite is popular for its brilliance and widely distributed gemstone. But on the same time, Tanzanite is a delicate gemstone and it should always be worn carefully. Never clean tanzanite in an ultrasonic cleaner or resize or repair a Tanzanite ring set without having the gem removed because the stone could shatter in the heat of a torch.
16-Topaz
Color: Blue, Brown, Green, Orange, Pink, Red, Yellow, White, Gold, Colorless
Mohs hardness scale: 8
Mineral Class: Topaz
Locality: Found mainly in Brazil, Sri Lanka, Burma, Nigeria, USA, Australia, Madagascar and Mexico
Topaz is a member of Quartz family. This beautiful gemstone most commonly found in yellow color. A Topaz turns a vivid blue when exposed to heat. Also the Topaz is said to have power of changing color when it's near poison. The name topaz is derived from the Sanskrit word 'Tapas', meaning 'Fire'.
Although Topaz is considered tough and durable gemstone but still it is not an invincible stone. It cracks and chips easily than many other gemstones, and should be treated with care.
17-Tourmaline
Color: Black, Red, Pink, Blue, Green, Grey and Yellow
Mohs hardness scale: 7 – 7.5
Mineral Class: Quartzite
Locality: Found mainly in Brazil, Sri Lanka, South Africa, Nigeria, Zimbabwe, Kenya, Tanzania, Mozambique, Madagascar, Pakistan, Afghanistan, USA
Tourmalines are gemstones with deep brilliance and incomparable variety of colors. These Gemstones are mixed crystals of aluminium boron silicate with a complex and changing composition.
The name tourmaline comes from the Singhalese words 'tura mali', means something like 'stone with mixed colors'. Tourmalines with different colors have different names. For example, a tourmaline of an intense red is known as a 'rubellite', but if it changes the color on change in the light source then the stone is called pink or shocking pink tourmaline. Stones with two colors are known as bicolored tourmalines, and those with more than two are known as multicolored tourmalines.
This gemstone has excellent wearing qualities and is easy to look after. No two tourmalines are exactly alike. In the fascinating world of gemstones, the tourmaline has a very special place.
---
Reference:
Wikipedia: Gemstone
USGS: GEMSTONES
U.S. Department of the Interior/U.S. Geological Survey: Natural Gemstones
Swiss Gemological Laboratory: Gemstone Guide – Types of Gemstone