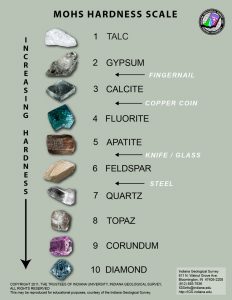 Mohs scale
The Mohs scale of mineral hardness is a qualitative ordinal scale that characterizes the scratch resistance of different minerals through the ability of a harder material to scratch a softer material. It was created by the German geologist and mineralogist Friedrich Mohs in 1812 and is one of several material science definitions of hardness, some of which are more quantitative.
About Hardness Tests
The hardness test developed by Friedrich Mohs was the first known test to assess resistance of a material to scratching. It is a very simple but inexact comparative test. Perhaps its simplicity has enabled it to become the most widely used hardness test.
Since the Mohs Scale was developed in 1812, many different hardness tests have been invented. These include tests by Brinell, Knoop, Rockwell, Shore and Vickers. Each of these tests uses a tiny "indenter" that is applied to the material being tested with a carefully measured amount of force. Then the size or the depth of the indentation and the amount of force are used to calculate a hardness value.
Why are there so many different hardness tests? The type of test used is determined by the size, shape and other characteristics of the specimens being tested. Although these tests are quite different from the Mohs test there is some correlation between them.
Usage
Despite its simplicity and lack of precision, the Mohs scale is highly relevant for field geologists, who use the scale to roughly identify minerals using scratch kits. The Mohs scale hardness of minerals can be commonly found in reference sheets. Reference materials may be expected to have a uniform Mohs hardness.
The Mineral Hardness Scale
The mineral hardness scale of Mohs is based on the ability of one natural mineral sample to visibly scratch another mineral. All different minerals are the samples of matter used by Mohs. Minerals are naturally found pure substances. Rocks consist of one or more minerals.
Diamonds are at the top of the scale as the hardest known naturally occurring substance when designing the scale. A material's hardness is measured against the scale by finding the hardest material that can scratch the given material and/or the softest material that can scratch the given material.
"Scratching" a material for Mohs scale purposes means creating visible to the naked eye non – elastic dislocations. Materials lower on the Mohs scale can often create microscopic, non – elastic dislocations on materials with a higher number of Mohs. While these microscopic dislocations are permanent and sometimes detrimental to the structural integrity of the harder material, for determining a Mohs scale number, they are not considered "scratches."
Mohs Hardness Scale
Mohs Hardness of Common Minerals
Alphabetical

Mineral

Mohs Hardness

Anhydrite
3 to 3.5
Apatite
5
Arsenopyrite
5.5 to 6
Augite
5.5 to 6
Azurite
3.5 to 4
Barite
2.5 to 3.5
Bauxite
1 to 3
Beryl
7.5 to 8
Biotite
2.5 to 3
Bornite
3 to 3.25
Calcite
3
Cassiterite
6 to 7
Chalcocite
2.5 to 3
Chalcopyrite
3.5 to 4
Chlorite
2 to 2.5
Chromite
5.5 to 6
Chrysoberyl
8.5
Cinnabar
2 to 2.5
Copper
2.5 to 3
Cordierite
7 to 7.5
Corundum
9
Cuprite
3.5 to 4
Diamond
10
Diopside
5.5 to 6.5
Dolomite
3.5 to 4
Enstatite
5 to 6
Epidote
6 to 7
Fluorite
4
Galena
2.5 to 2.75
Garnet
6.5 to 7.5
Glauconite
2
Gold
2.5 to 3
Graphite
1 to 2
Gypsum
1.5 to 2
Halite
2 to 2.5
Hematite
5 to 6.5
Hornblende
5 to 6
Ilmenite
5 to 6
Jadeite
6.5 to 7
Kyanite
4.5 to 5 or 7
Limonite
1 to 5
Magnesite
3.5 to 5
Magnetite
5 to 6.5
Malachite
3.5 to 4
Marcasite
6 to 7.5
Molybdenite
1 to 2
Monazite
5 to 5.5
Muscovite
2 to 3
Nepheline
5.5 to 6
Nephrite
5 to 6
Olivine
6.5 to 7
Orthoclase
6 to 6.5
Plagioclase
6 to 6.5
Prehnite
6 to 6.5
Pyrite
6 to 6.5
Pyrophyllite
1 to 2
Pyrrhotite
3.5 to 4.5
Quartz
7
Rhodochrosite
3.5 to 4
Rhodonite
5.5 to 6.5
Rutile
6 to 6.5
Serpentine
3 to 5
Siderite
3.5 to 4.5
Sillimanite
6.5 to 7.5
Silver
2.5 to 3
Sodalite
5.5 to 6
Sphalerite
3.5 to 4
Spinel
7.5 to 8
Spodumene
6.5 to 7
Staurolite
7 to 7.5
Sulfur
1.5 to 2.5
Sylvite
2
Talc
1
Titanite
5 to 5.5
Topaz
8
Tourmaline
7 to 7.5
Turquoise
5 to 6
Uraninite
5 to 6
Witherite
3 to 3.5
Wollastonite
4.5 to 5.5
Zircon
7.5
Zoisite
6 to 7

Decreasing Hardness

Mineral

Mohs Hardness

Diamond
10
Corundum
9
Chrysoberyl
8.5
Topaz
8
Beryl
7.5 to 8
Spinel
7.5 to 8
Zircon
7.5
Cordierite
7 to 7.5
Staurolite
7 to 7.5
Tourmaline
7 to 7.5
Quartz
7
Garnet
6.5 to 7.5
Jadeite
6.5 to 7
Sillimanite
6.5 to 7.5
Olivine
6.5 to 7
Spodumene
6.5 to 7
Marcasite
6 to 7.5
Cassiterite
6 to 7
Epidote
6 to 7
Zoisite
6 to 7
Orthoclase
6 to 6.5
Plagioclase
6 to 6.5
Prehnite
6 to 6.5
Pyrite
6 to 6.5
Rutile
6 to 6.5
Diopside
5.5 to 6.5
Rhodonite
5.5 to 6.5
Arsenopyrite
5.5 to 6
Augite
5.5 to 6
Chromite
5.5 to 6
Hematite
5.5 to 6.5
Nepheline
5.5 to 6
Sodalite
5.5 to 6
Magnetite
5 to 6.5
Enstatite
5 to 6
Hornblende
5 to 6
Ilmenite
5 to 6
Nephrite
5 to 6
Turquoise
5 to 6
Uraninite
5 to 6
Monazite
5 to 5.5
Titanite
5 to 5.5
Apatite
5
Wollastonite
4.5 to 5.5
Kyanite
4.5 to 5 or 7
Fluorite
4
Magnesite
3.5 to 5
Pyrrhotite
3.5 to 4.5
Siderite
3.5 to 4.5
Azurite
3.5 to 4
Chalcopyrite
3.5 to 4
Cuprite
3.5 to 4
Dolomite
3.5 to 4
Malachite
3.5 to 4
Rhodochrosite
3.5 to 4
Sphalerite
3.5 to 4
Serpentine
3 to 5
Anhydrite
3 to 3.5
Witherite
3 to 3.5
Bornite
3 to 3.25
Calcite
3
Barite
2.5 to 3.5
Biotite
2.5 to 3
Chalcocite
2.5 to 3
Copper
2.5 to 3
Gold
2.5 to 3
Silver
2.5 to 3
Galena
2.5 to 2.75
Muscovite
2 to 3
Chlorite
2 to 2.5
Cinnabar
2 to 2.5
Halite
2 to 2.5
Glauconite
2
Sylvite
2
Sulfur
1.5 to 2.5
Gypsum
1.5 to 2
Limonite
1 to 5
Bauxite
1 to 3
Graphite
1 to 2
Molybdenite
1 to 2
Pyrophyllite
1 to 2
Talc
1
Mohs Hardness of Common Objects

Fingernail

2 to 2.5

Copper

3

Nail

4

Glass

5.5

Knife blade

5 to 6.5

Steel file

6.5

Streak plate

6.5 to 7

Quartz

7
Reference:
Wikipedia: Mohs scale of mineral hardness