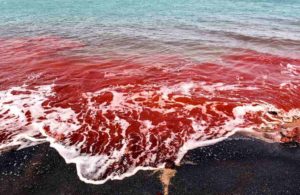 Hormuz Island, also known as Hormoz, is an Iranian island in the Persian Gulf. Located in the Strait of Hormuz, 8 kilometres (5 mi) from the coast of Iran, the island is part of the Hormozgan Province. Reddish ocher on the island and its beaches.
The area of Hormuz Island is 42 km2 (16 sq mi). It is riddled with sedimentary rock and layers of volcanic ash on its surface. The highest point of the island is about 186 metres (610 ft ) above sea level. The soil and water are salty due to lack of precipitation.
The soil of Hormuz has a high concentration of iron oxide which gives the landscape a characteristic reddish hue. Where the sand is reddish, the waves in the sea become tinged with pink. This has been used for decades in the dyeing, cosmetics, glass and ceramics industries – with plenty of exports going on from areas like this.