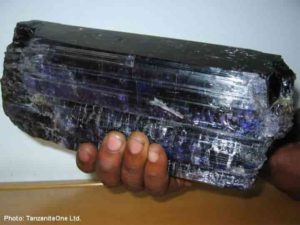 The Largest Tanzanite rough in the World
The world's largest piece of rough tanzanite has been found at a mine in northern Tanzania in 2005, well over six pounds.
The discovery was made about 885 feet underground at Bravo Shaft of TanzaniteOne Ltd., the southernmost shaft of the world's leading tanzanite miner and marketer. Weighing in at cts 16.839. (Well over six pounds) and measuring 8.6 inchesx 3.15 inchesx 2.8 inches, the rugged tanzanite piece is remarkable in size and shape and is the world's largest single piece of tanzanite ever mined, said the company.
The company named the piece "The Mawenzi" after Kilimanjaro's second highest peak. "We were reluctant to name it Uhuru, after Kilimanjaro's highest peak, on the off chance that a larger piece is ever found," said Ian Harebottle, TanzaniteOne's president and COO
No value was put on stone. TanzaniteOne said it plans to examine and evaluate the piece before any final decision on the potential cutting and polishing from this crystal of individual tanzanite gems is made. The business is considering before cutting and polishing putting The Mawenzi on display.
Ami Mpungwe, TanzaniteOne's deputy chairman said the find is comparable to what the Cullinan Diamond is to the diamond industry and that the stone will be cut and polished in Tanzania.
"It is only fitting that The Mawenzi is cut and polished here in Tanzania," Mpungwe said. "We expect to produce some truly exquisite gems from it, some of which we will put on display at Tanzania's National Museum."
What is Tanzanite?
Tanzanite is the mineral zoisite (a calcium aluminum hydroxyl sorosilicate) blue and violet type caused by small amounts of vanadium belonging to the group of epidotes. Tanzanite is found only in Tanzania, in a very small mining area (about 7 km (4.3 mi) long and 2 km (1.2 mi) wide) close to the Mirerani Hills.
Tanzanite is known for its remarkably strong trichroism, appearing in turn blue, violet and burgundy depending on the orientation of the crystal. When viewed under different lighting conditions tanzanite can also appear differently. When exposed to fluorescent light the blues become more visible, and when viewed under incandescent lighting, the violet hues can be readily seen. A reddish brown to clear is colored in its rough state tanzanite, and it needs heat treatment to dissolve the brownish "veil" to bring out the stone's blue violet.
The gemstone was given the name 'tanzanite' by Tiffany & Co. after Tanzania, the country in which it was discovered. The scientific name of "blue-violet zoisite" was not thought to be consumer friendly enough by Tiffany's marketing department, who introduced it to the market in 1968. In 2002, the American Gem Trade Association chose tanzanite as a December birthstone, the first change to their birthstone list since 1912.