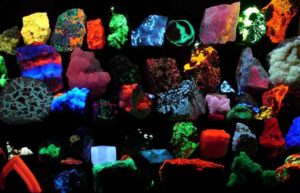 Fluorescence is the emission of light by a substance that has absorbed light or other electromagnetic radiation. It is a form of luminescence. In most cases, the emitted light has a longer wavelength, and therefore lower energy, than the absorbed radiation.
The most striking example of fluorescence happens when the absorbed radiation is in the ultraviolet region of the spectrum, and thus invisible to the human eye, whereas the light emitted is in the visible region, giving the fluorescent material a distinct color that can only be seen when exposed to UV light. Fluorescent materials almost immediately cease to glow when the source of radiation ceases, unlike phosphorescent materials that tend to emit light for some time.
Fluorescence has many practical applications, including mineralogy, gemology, medicine, chemical sensors (fluorescence spectroscopy), fluorescent marking, coloring biological detectors, and detection of cosmic rays. Its most common everyday use is in energy-saving fluorescent lamps and LED lamps, where fluorescent coatings are used to transform short-wavelength UV or blue light into longer-wavelength yellow light, thereby mimicking the warm light of energy-inefficient incandescent lamps. Fluorescence also occurs frequently in nature in some minerals and in various biological forms in many branches of the animal kingdom.
Fluorescent Minerals
Gemstones, minerals, may have a distinctive fluorescence or may fluoresce differently under short-wave ultraviolet, long-wave ultraviolet, visible light, or X-rays.
Many types of calcite and amber will fluoresce under shortwave UV, longwave UV and visible light. Rubies, emeralds, and diamonds exhibit red fluorescence under long-wave UV, blue and sometimes green light; diamonds also emit light under X-ray radiation.
Mineral fluorescence is caused by a wide array of activators. In some situations, the activator concentration must be restricted to below a certain level, to prevent the fluorescent emission from quenching. In addition, the mineral must be free of impurities such as iron or copper, in order to prevent possible fluorescence from quenching. Divalent manganese is present in concentrations up to several per cent. Hexavalent uranium, in the form of uranyl cation, fluoresces at all concentrations in a yellow color, causing the fluorescence of minerals such as autunite or andersonite, and causing the fluorescence of materials such as certain samples of hyalite opal at low concentrations. Trivalent, low-concentration chromium is the source of ruby red fluorescence. Divalent europium, when seen in the mineral fluorite, is the source of blue fluoresce. Trivalent lanthanides such as terbium and dysprosium are the primary activators of the creamy yellow fluorescence shown by the mineral fluorite yttrofluorite type, and contribute to the zircon's orange fluorescence. Powellite (calcium molybdate) and scheelite (calcium tungstate) fluoresce intrinsically in yellow and blue, respectively. When present together in solid solution, energy is transferred from the higher-energy tungsten to the lower-energy molybdenum, such that fairly low levels of molybdenum are sufficient to cause a yellow emission for scheelite, instead of blue. Low-iron sphalerite (zinc sulfide), fluoresces and phosphoresces in a range of colors, influenced by the presence of various trace impurities.
Crude oil (petroleum) fluoresces in a range of colors, from dull-brown for heavy oils and tars through to bright-yellowish and bluish-white for very light oils and condensates. This phenomenon is used in oil exploration drilling to identify very small amounts of oil in drill cuttings and core samples.