What Is Agate?
Agate is a gemstone used in different pieces of decoration and jewelry. It's made of silica and chalcedony. The silica crystals, mostly Chalcedony, form a brightly colored grainy stone known by the people as Agate. It was given the name "Agate" after the river "Achates" where it was first found once. In southwestern Sicily, Achates is situated.
It's found mostly in volcanic rocks or lavas. Agate is powerful in filling the cracks in volcanic rocks once the lava bursts from them. When agate is transversally sweet, it depicts a parallel line network. Such lines appear slightly on the surface and tend to divide agate into various sections. Agate is known as banded agate with such lines.
Types of Agate
Onyx Agate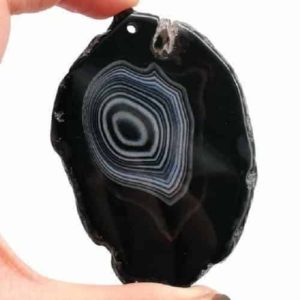 Onyx specifically refers to silicate mineral chalcedony's parallel banded form. Agate and onyx are both layered chalcedony varieties which differ only in band form: agate has curved bands and onyx has parallel bands. His bands ' colors range from black to nearly any color. Onyx specimens usually contain bands of black and/or white. Onyx has also been applied as a descriptive term to parallel banded alabaster, marble, obsidian and opal types, and misleadingly to contorted banding materials such as "Cave Onyx" and "Mexican Onyx."
Onyx comes through Latin (of the same spelling), from the Greek ὄνυξ, meaning "claw" or "fingernail". Onyx with flesh-colored and white bands can sometimes resemble a fingernail. The English word "nail" is cognate with the Greek word.
Onyx is formed of bands of chalcedony in alternating colors. It is cryptocrystalline, consisting of fine intergrowths of the silica minerals quartz and moganite. Its bands are parallel to one another, as opposed to the more chaotic banding that often occurs in agates.
Sardonyx Agate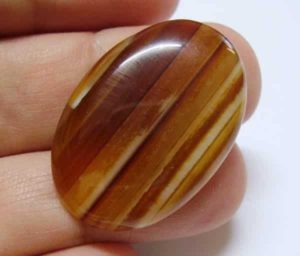 It is a variant in which the colored bands are sard (shades of red) rather than black. Black onyx is perhaps the most famous variety, but is not as common as onyx with colored bands. Artificial treatments have been used since ancient times to produce both the black color in "black onyx" and the reds and yellows in sardonyx. Most "black onyx" on the market is artificially colored.
Iris Agate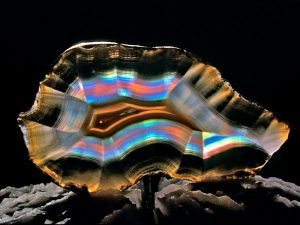 It looks very beautiful and delicate in banding, as the name suggests. Iris doesn't mean it looks like the human iris. The name was given to her because of the colors of the rainbow. Iris is used in the rainbow as well. It is finely banded with a vibrant color display. You will see it reflecting the light while you hold it opposite to the sun. The light touches and reflects the thin bands within it.
Crazy Lace Agate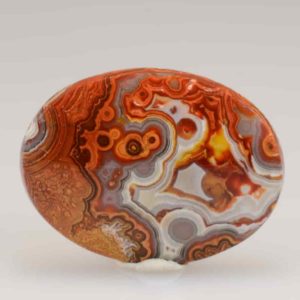 Crazy lace agate (also known as Mexican Agate) is a banded chalcedony (microcrystalline quartz) that's infused with iron and aluminum and is often brightly colored and complexly patterned. This produces the creamy browns, blacks, greys and golds (and occasional pinks or reds) swirled together in this stone.
The white-colored banded Chalcedony makes it more attractive. Other layers can be brown, cream, black or gray in different colors. Some Crazy Lace Agate comes in colored bands of yellow, orange, golden and red. Occasionally, because of its multiple colors and light reflecting nature, the jewelers call it "Earth rainbow."
Thunder-egg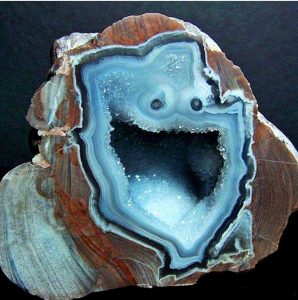 A Thunder Egg "Thunderegg" is a nodule-like rock, similar to a filled geode, that is formed within rhyolitic volcanic ash layers. Thundereggs are rough spheres, most about the size of a baseball—though they can range from less than an inch to over a meter across. They usually contain centres of chalcedony which may have been fractured followed by deposition of agate, jasper or opal, either uniquely or in combination. Also frequently encountered are quartz and gypsum crystals, as well as various other mineral growths and inclusions.
Thundereggs usually look like ordinary rocks on the outside, but slicing them in half and polishing them may reveal intricate patterns and colours. A characteristic feature of thundereggs is that (like other agates) the individual beds they come from can vary in appearance, though they can maintain a certain specific identity within them.
Enhydro Agate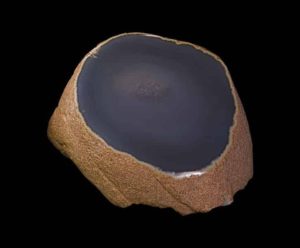 Enhydro agates are nodules, agates, or geodes with inside their cavity trapped in water. Enhydros are closely related to the inclusion of fluids, but consist of chalcedony. Enhydros formation remains an ongoing process, with specimens from the Eocene Epoch. We are frequently found in volcanic rock areas.
Enhydro agates are made up of banded microcrystalline or cryptocrystalline quartz. The agate has a hollow center, partially containing water. Enhydro agates can also contain debris or petroleum. Because the cavity is not full, the agate can produce sound from being shaken. Agates vary in size. The largest recorded agate was found in Fuxin City, China, with a diameter of 63 cm and weighing 310 kg.
Enhydros are formed when water rich in silica percolates through volcanic rock, forming layers of deposited mineral. As layers build up, the mineral forms a cavity in which the water becomes trapped. The cavity is then layered with the silica-rich water, forming its shell. Unlike fluid inclusions, the chalcedony shell is porous, allowing water to enter and exit the cavity very slowly. The water inside of an enhydro agate is most times not the same water as when the formation occurred. During the formation of an enhydro agate, debris can get trapped in the cavity. Types of debris varies in every agate.
Polyhedroid Agate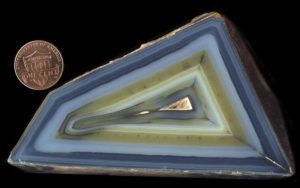 This type of agate has flat sides and is very similar to polyhedron in the color scheme. The layers of condensed polygons can be seen inside when cut from the middle. It is usually found in the state of Paraiba, Brazil. The crystals inside, when held against the sun, reflect the light and discharge beautiful rays.
Moss Agate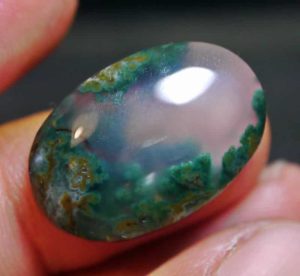 Moss agate is a semi-precious gemstone formed from silicon dioxide. It is a form of chalcedony which includes minerals of a green colour embedded in the stone, forming filaments and other patterns suggestive of moss. The field is a clear or milky-white quartz, and the included minerals are mainly oxides of manganese or iron. It is not a true form of agate, as it lacks agate's defining feature of concentric banding. Moss agate is of the white variety with green inclusions that resemble moss. It occurs in many locations. The colors are formed due to trace amounts of metal present as an impurity, such as chrome or iron. The metals can make different colors depending on their valence (oxidation state).
Despite its name, moss agate does not contain organic matter and is usually formed from weathered volcanic rocks.
Montana moss agate is found in the alluvial gravels of the Yellowstone River and its tributaries between Sidney and Billings, Montana. It was originally formed in the Yellowstone National Park area of Wyoming as a result of volcanic activity. In Montana moss agate the red color is the result of iron oxide and the black color is the result of manganese oxide.
The Lake Superior Agate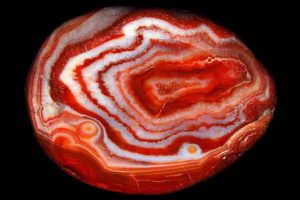 The Lake Superior agate is a type of agate stained by iron and found on the shores of Lake Superior. Its wide distribution and iron-rich bands of color reflect the gemstone's geologic history in Minnesota, Wisconsin, and Michigan. In 1969 the Lake Superior agate was designated by the Minnesota Legislature as the official state gemstone.
The Lake Superior agate was selected because the agate reflects many aspects of Minnesota. It was formed during lava eruptions that occurred in Minnesota about a billion years ago. The stone's predominant red color comes from iron, a major Minnesota industrial mineral found extensively throughout the Iron Range region. Finally, the Lake Superior agate can be found in many regions of Minnesota as it was distributed by glacial movement across Minnesota 10,000 to 15,000 years ago.
Condor Agate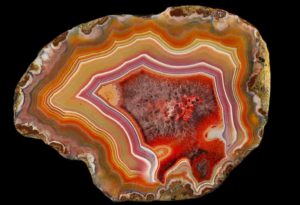 Condor agate was discovered and named by Luis de los Santos in 1993. It is found in the mountains near San Rafael, in Mendoza Province, Argentina. This agate exhibits colorful bands and patterns, and has become a popular stone among collectors and jewelry designers.
n the early days of condor agate collecting, a typical month of effort would yield 1 ton of good agates. Currently, excavation is required to find the agates, so an extra effort is needed to supply the ever growing demand for these gems. Initially, the agates were found scattered loose over the landscape and were readily harvested in quantity. Today, surface collecting is no longer prolific, so these agates are collected from shallow diggings in the cold agate fields in Mendoza province, Argentina.
Sagenite Agate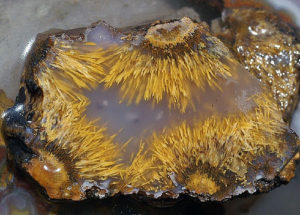 It is formed by mixing Chalcedony with various minerals. The golden hair-like pointed lines make it more attractive and distinctive in its style.
Fortification Agate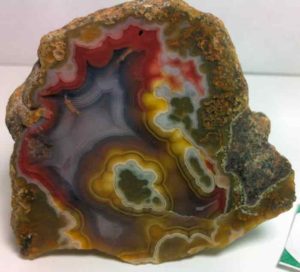 The name was given to it due to its sharp-edged bands. These bands resemble with a fortified castle with sharp angles. The array of white, light brown, orange, red and purple colors make it worthwhile.
Fairburn Agate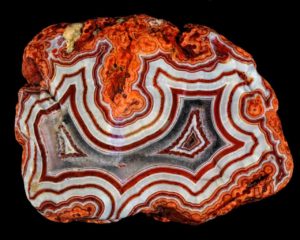 It is a rare, but very beautiful type of agate found in Fairburn, Custer Co., South Dakota, USA. It is considered to be the state jewel of South Dakota, USA. That's why when you break into two pieces you can see the beautiful patterns of colors and designs. When found naturally, the surface is rough.
Botswana Agate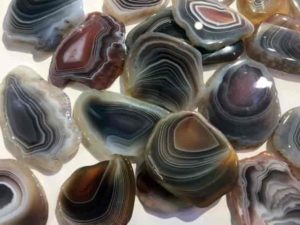 It is a unique agate available in dark and light gray and pink shades. However, some layers come with muted brown color.
Dendritic Agate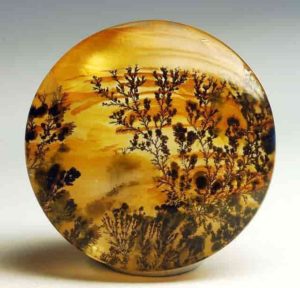 It's called the Plentitude Stone. It is considered to be the most valuable form of agate. Dendritic agate is associated with the ancient dryads of Greece. This type of agate is, therefore, a sign of good luck and the farmers use it to bury it in their fields to get the good crops.
Coyamito Agate Pseudomorph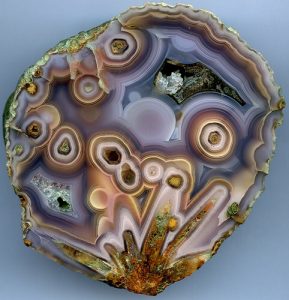 Something like this goes through the formational process. First crystals grow in the gas cavity left in the volcanic andesite rock (in the case of the Coyamito Agate, these crystals are assumed to be aragonite). The agate then begins to form, cover the crystals and the cavity's within. The more agate the coating on the crystals forms the thicker. This process can continue until the gas cavity is filled or, more often than not, the nodule leaves a hollow portion. Quartz or agate can, like all nodular agates, move from one to the other.