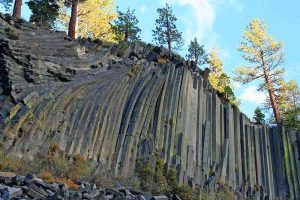 Devils Postpile National Monument is located near Mammoth Mountain in eastern California. The national monument protects Devil's Postpile, an unusual rock formation of columnar basalt. Devils Postpile National Monument encompasses 798 acres (323 ha) and includes two main tourist attractions: the Devil's Postpile formation and Rainbow Falls, a waterfall on the Middle Fork of the San Joaquin River. In addition, the John Muir Trail and Pacific Crest Trail merge into one trail as they pass through the monument. Excluding a small developed area containing the monument headquarters, visitor center and a campground; the National Monument lies within the borders of the Ansel Adams Wilderness.
History
It was created in 1911 as Devil Postpile National Monument, and has forever been widely referred to as Devil's Postpile National Monument; but it has been officially styled as plural without the apostrophe since the 1930s.
The monument was once part of Yosemite National Park, but discovery of gold in 1905 near Mammoth Lakes prompted a boundary change that left the Postpile on adjacent public land. Later, a proposal to build a hydroelectric dam called for blasting the Postpile into the river. Influential Californians, including John Muir, persuaded the federal government to stop the demolition and, in 1911, President William Howard Taft protected the area as a National Monument.
Devils Postpile National Monument