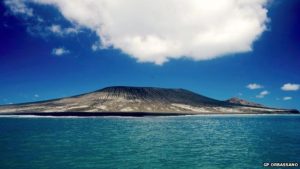 A new island has been formed in the South Pacific after the eruption of an underwater volcano in Tonga.
Images have emerged of the island's surface, 45km (28 miles) north-west of Tonga's capital, Nuku'alofa.
The island – which is 500m (1,640 feet) long – was formed after an eruption at the Hunga Tonga volcano that started in December.
One scientist said the island was likely to be highly unstable, and dangerous to visitors.
The volcano – the full name of which is Hunga Tonga-Hunga Ha'apai – erupted for the second time in five years in December. "Watch: Underwater volcano erupts off Tonga"
The world's newest island
Note: The above post is reprinted from materials provided by BBC.