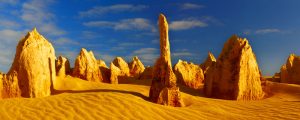 Nambung National Park is a national park in the Wheatbelt region of Western Australia, 200 km northwest of Perth, Australia and 17 km south of the small coastal town of Cervantes. The park contains the Pinnacles Desert which is an area with thousands of limestone formations called pinnacles.
The park derives its name from an indigenous Australian word possibly meaning crooked or winding. The word was first used in 1938 when naming the Nambung River which flows into the park and disappears into a cave system within the limestone. The Yued people are the acknowledged traditional custodians of the land since before the arrival of Europeans.
Nambung National Park also contains beaches at Kangaroo Point and Hangover Bay, as well as coastal dunes and flowering plants in low heathland areas. A boardwalk in the northern area of the park at Lake Thetis allows visitors to view thrombolites which, like stromatolites, are structures built by micro-organisms, especially cyanobacteria. Some of the fossilized thrombolites have been dated to 3.6 billion years old. The Pinnacles Desert Discovery Centre features exhibits about the geology of the pinnacles formations and the cultural and natural heritage values of the area.
Geography
The park is bordered to the north by the Southern Beekeeper's Nature Reserve and to the south by Wanagarren Nature Reserve. A large area of vacant Crown land is found along much of the eastern boundary while the Indian Ocean defines the park's western boundary. Visitors can access the Pinnacles Desert from points north or south of Cervantes via the Indian Ocean Drive or via Cervantes Road from the east. The park is located 17 km south of Cervantes.
Geology
The Pinnacles Desert contains thousands of limestone pillars. The pillars are the weathered and eroded fragments of limestone beds composed of deposited marine organisms such as coral and molluscs. Some of the tallest pinnacles reach heights of up to 3.5m above the yellow sand base. The different types of formations include ones which are much taller than they are wide and resemble columns—suggesting the name of Pinnacles—while others are only a meter or so in height and width resembling short tombstones. A cross-bedding structure can be observed in many pinnacles where the angle of deposited sand changed suddenly due to changes in prevailing winds during formation of the limestone beds. Pinnacles with tops similar to mushrooms are created when the calcrete capping is harder than the limestone layer below it. The relatively softer lower layers weather and erode at a faster rate than the top layer leaving behind more material at the top of the pinnacle.
Photo
Nambung National Park, Australia
Map
---
Note: The above post is reprinted from materials provided by Wikipedia.