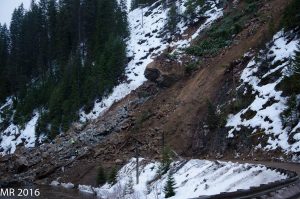 On Thursday, the Idaho Transportation Department said debris slid onto a section of Highway 14, about 10 miles west of Elk City.
About 500 feet of the highway is blocked off with rock, trees, debris and is about 40 feet deep. It's unclear when the highway will reopen.
"One of the problems, besides assessing stability, is what to do with the slide material," ITD wrote on its Facebook page. "ITD has no nearby materials pit that could hold such a massive quantity."
The Idaho County Sheriff's Office told KBOI 2News that officials aren't sure when the highway could open up. There's a lot of earth on the road.
"They are truly blocked in," an official said.
Bret Edwards has worked with ITD for a little over a year. He was the one to catch the landslide on tape. We spoke with KBOI 2News on the phone to describe the scene.
"The trees started cracking and a lot more material started coming down than what we normally see," Edwards said. "And the whole mountainside just gave way. Didn't know what to think but I knew there were power lines near so I just started running. Did the best we could to get out of the way of things."
Edwards says the landslide is probably because of the extensive rain in the area.
"We've all been expecting something big to happen. And we obviously didn't expect something to happen yesterday but with the moisture that we've been having… I don't think anyone was actually shocked that it happened. But it's a known problem and everybody has just been waiting for the day for it to come down."
Crews will be working to grade Forest Road 1199 to open it up for emergency services. The road, which is typically not open during this part of the season, will be for emergency use only.
The sheriff's office said no one in the remote town has reached out in need of help as of Friday afternoon.
"They're a pretty hardy bunch," the official said.
Edwards says he's happy his crew is safe.
"No one was injured. Just basically the worst thing is the road blockage for the residents in the small community of Elk City. That's the only way in and the only way out."
Note: The above post is reprinted from materials provided by KBOI.