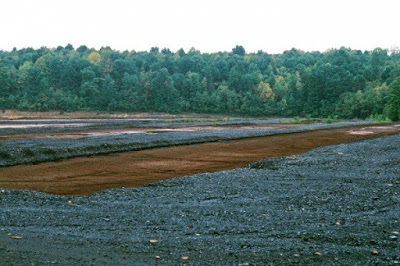 West Virginia could become one of the country's significant sources for rare earth elements, the "vitamins of modern industry," without the expense or environmental cost of opening new mines.
Last week, the United States Department of Energy's National Energy Technology Laboratory, or NETL, selected West Virginia University to conduct a $937,000 research project in support of DOE's program to Recover of Rare Earth Elements from Coal and Coal Byproducts.
Rare earth elements, or REEs, are chemical elements in Earth's crust that are essential ingredients in modern technologies such as cell phones, rechargeable batteries, DVDs, GPS equipment, medical equipment and many defense applications.
Demand for REEs continues to grow, but mining and processing these elements is expensive and difficult. Conventional rare earth extraction grinds large volumes of hard rock and removes rare earths through acid extraction. The process is energy intensive, disturbs large areas of pristine land, and generates large volumes of toxic tailings.
Because of this and the cost of developing domestic sources, the U.S. imports nearly all of its REEs.
There are other methods for obtaining REEs. Some coal-related waste streams are enriched with REEs, sparking interest in evaluation of these wastes as a potential domestic supply.
WVU's project, "Recovery of Rare Earth Elements from Coal Mine Drainage," brings together academia, state regulators and industry to collaborate on finding a successful recovery technology for total REEs from acid mine drainage, or AMD.
Paul Ziemkiewicz, director of the West Virginia Water Research Institute and principal investigator for the project, and co-investigators Xingbo Liu, professor of mechanical engineering, and Aaron Noble, professor of mining engineering, will test different sources of AMD solids and methods for extracting valuable REEs.
The team has already identified solids precipitated during treatment of AMD, as an enriched source of REEs, particularly the more valuable, heavy elements.
AMD is a waste stream generated by Appalachian coal mining that is created when sulfide minerals in rocks are exposed to air and water. Active coal mines are required to treat this water resulting in the precipitation of AMD solids which must be disposed of.
In Pennsylvania and West Virginia alone, it is estimated that AMD generates more than 45,000 tons of total REEs per year or about three times the current U.S. demand for total REEs.
The team will work with industry partners Mepco Inc., Consol Energy and Rosebud Mining as well as the West Virginia Department of Environmental Protection's Office of Special Reclamation to not only identify enriched AMD solids but to develop ways to integrate rare earth extraction with their current mine drainage treatment operations.
WVU's approach capitalizes on the fact that acid mine drainage is an existing source of acid which extracts rare earths from coal-related rock. As the coal industry treats this acid water to meet regulatory requirements it generates huge volumes of solids which require disposal.
"Those solids are our feedstock," Ziemkiewicz said. "And in a sense, it's already pre-processed."
Liu and Noble will develop ways to further concentrate REEs so that it can supply the metal refining industry.
No new mines will be needed to generate this domestic supply of rare earths, and rejects will be returned to the AMD treatment plant's disposal system requiring a negligible environmental footprint.
"Successful development of this concept will generate an additional revenue stream for the coal industry, create jobs and incentivize acid mining treatment," Ziemkiewicz said. "At the same time it will reduce U.S. reliance on foreign supplies of rare earth elements."
The research team acknowledges NETLfor its support of this project and looks forward to working with NETL's scientists in advancing this technology.
Note: The above post is reprinted from materials provided by West Virginia University.