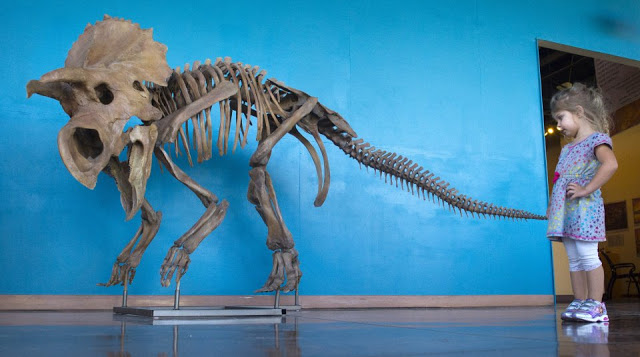 The Rocky Mountain Dinosaur Resource Center in Woodland Park on Wednesday unveiled what is believed to be a new, never-before-seen species of prehistoric herbivore discovered by its field team during excavations at the fossil-rich Judith River Formation in Montana.
Nicknamed "Ava" due to initial similarities to Avaceratops, the long-tailed plant eater grazed the Western Interior during the Late Cretaceous Period about 75 million years ago.
The creature had a Triceratops-shaped head and compact body that was "maybe the equivalent of a two-or-three-year-old rhino calf … (but) we don't have a whole lot of barrel-chested animals around today where 30 percent of the critter is tail," said Anthony Maltese, the center's curator and a member of the field excavation team for Triebold Paleontology, Inc. The firm, whose main lab is housed at the center, began uncovering the skeleton from private ranch land in 2012.
The new ceratopsian dinosaur has not been assigned a scientific name differentiating it from the species it closely resembles; that will come after official confirmation by outside experts, Maltese said. In the meantime, the center's in-house experts are confident their "Ava" is a "Not-Ava."
"Some differences were major, and some were minor," Maltese said. "There were enough differences we were sure we'd found something completely new."
Using mostly hand-held brushes and tools, the team from Triebold Paleontology spent four months uncovering and removing the skull and about 200 disarticulated bones from solid sandstone. The bones were transported to the center's high-tech lab, where they were restored, molded and cast and used to create a model that could be reconstructed and mounted for display. Digital mirror-imaging and 3D printing were used to recreate the missing pieces of a find that was remarkably intact.
"It's nice to have a new species, but to have a body so well represented …," said Mike Triebold, a professional fossil hunter whose $3.5 million dinosaur center houses a public museum as well as one of the world's more active paleo labs. "The amazing thing about this specimen (is) many, many, many times scientists will create a specimen out of a few bones, but we found 85 percent of the animal."
Since founding the company in 1989, Triebold and his teams have found about a half-dozen skeletons that were confirmed to represent new species of prehistoric land and marine animals, and those discoveries can be seen, as fully articulated skeletal models, in the museum. Triebold's firm was among the first to offer molding and casting of dinosaur skeletons, and its creations are on display in universities and museums worldwide.
The original fossilized "Ava" bones will be acquired by a museum or other institution, Triebold said, and the inaugural model cast from those bones will join the center's traveling Darwin and the Dinosaurs exhibit. First, though, Triebold booked it for a celebrity appearance at next month's annual meeting of the Society of Vertebrate Paleontology in Dallas.
"All the ceratopsian nerds will be all over it, arguing and comparing and praising. That's what they do," Triebold said.
Note: The above post is reprinted from materials provided by Colorado Springs Gazette.