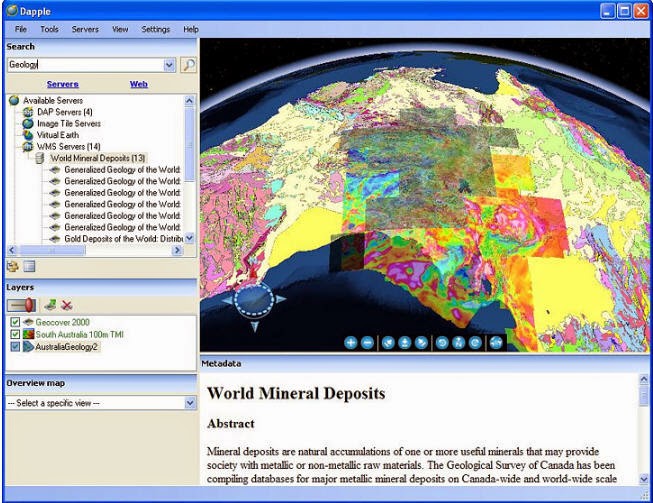 Dapple is a global data explorer designed to provide an open and optimal environment for visualizing, presenting and sharing massive quantities of geoscientific data on desktop computers. Dapple lets you browse, discover and display graphically rich data from global and corporate spatial servers – Geosoft DAP servers, NASA servers, USGS servers, and the many, many WMS servers currently available. The Dapple project is an open-source activity derived from the NASA World Wind open source project.
Geosoft's Role in the Dapple Open Source project
Geosoft started the Dapple open source project in 2004. The Dapple project remains an open source project, however as of June 2012, Geosoft will no longer be playing an active role in the Dapple open source project.
Spatial Data Rights
When you use Dapple, you are browsing and viewing spatial data and information provided by web services on the Internet. Some of that data may be copyrighted or have other terms of use imposed by the supplier of that data. To protect your own liability, you should ensure that your use of that data does not violate any rights or conditions that the supplier of the data may have. The Dapple team shall not be liable in any way for your use of any data.
Explore the earth
Dapple makes it easy to find and visualize massive quantities of geoscientific data available on the Internet.
Search the Web for spatial data
Search internal DAP servers and known Web servers for spatial data
View geoscience data, satellite imagery, remote sensing data, geology maps, geophysical data, and many other earth data sets of interest to geoscientists
Save an earth view and share your view with colleagues
Add new Geosoft DAP, WMS and ArcIMS servers of interest
View GeoTIFF files
View KML files
Software requirements
Dapple can be installed under Windows XP SP3, Windows Vista (32,64) or Windows 7 (32,64). You must be logged in as system administrator or a power-user with rights to install software.
The Dapple installation will look for .Net Framework 2.0, then DirectX, and if either are not present on your system the Dapple install will attempt to install them for you. Should these installations prove a problem, you can choose to install these components yourself from the following reference sites:
Microsoft .Net Framework 2.0
Microsoft DirectX
You can then run the Dapple installation again.
Hardware requirements
Recommended configuration:
Operating System: Windows XP SP3, Windows Vista (32, 64), Windows 7 (32, 64).
CPU: Pentium 4 2.4GHz+ or AMD 2400xp+
System Memory (RAM): 2GB RAM
Hard Disk: Data disk space depends on the volume of project data to be processed and the printer driver you are using, however 100 GB is recommended. This is largely based on your business and data requirements.
Network Speed: 768 Kbits/sec
Graphics Card: 3D-capable with 64MB of VRAM
Screen: 1280×1024, "32-bit True Colour" screen
Screenshots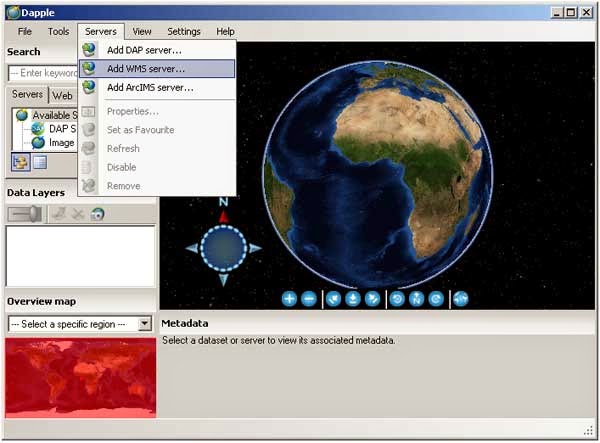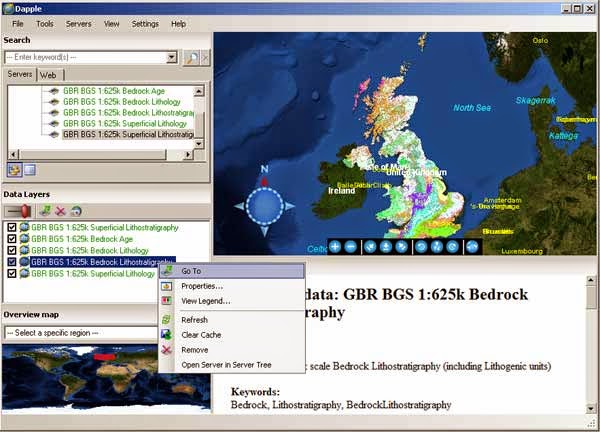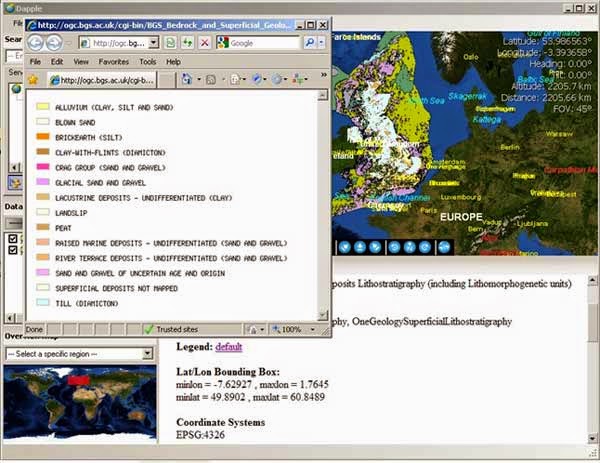 Download
Current Dapple version: 2.1.4 : Download Link
Copyright © 2008 Geosoft Inc. All rights reserved.
Copyright © 2001 United States Government as represented by the Administrator of the national Aeronautics and Space Administration.  All rights reserved.