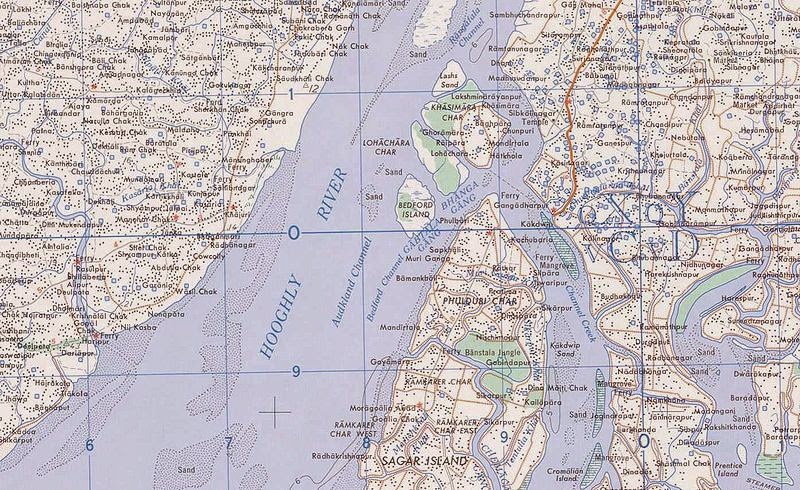 The Hooghly River or the Bhāgirathi-Hooghly, called 'Ganga' traditionally, is an approximately 260 kilometres (160 mi) long distributary of the Ganges River in West Bengal, India. It splits from the Ganges as a canal in Murshidabad District at the Farakka Barrage. The town of Hugli-Chinsura, formerly Hooghly, is located on the river, in the Hooghly (district). The origins of the Hooghly name are uncertain, whether the city or the river was named first.
Course
The Farakka Barrage is a dam that diverts water from the Ganges into a canal near the town of Tildanga in Malda district. This supplies the Hooghly with adequate water even in the dry season. It parallels the Ganges, past Dhulian, until just above Jahangirpur where the canal ends and the river takes its own course. Just south of Jahangirpur it leaves the Ganges area and flows south past Jiaganj Azimganj, Murshidabad, and Baharampur. South of Baharampur and north of Palashi it used to form the border between Bardhaman District and Nadia District, but while the border has remained the same the river is now often east or west of its former bed. The river then flows south past Katwa, Navadwip and Kalna. At Kalna it originally formed the border between Nadia District and Hooghly District, and then further south between Hooghly District and North 24 Parganas District. It flows past Halisahar, Chunchura, Konnagar, and Kamarhati. Then just before entering the twin cities of Kolkata (Calcutta) and Howrah, it turns to the southwest. At Nurpur it enters an old channel of the Ganges and turns south to empty into the Bay of Bengal. Two of its well known tributaries are Damodar and Rupnarayan.
Harvest fields of Bengal
The scenery along the banks of the Hooghly varies considerably. From the sea nothing but sandbanks and mud formations covered with coarse herbage at first greet the eye, then as the river narrows, cultivated rice fields and sleepy hamlets reposing within the foliage of beautiful groves, render the view at once pleasing and picturesque.
Note : The above story is based on materials provided by Wikipedia.