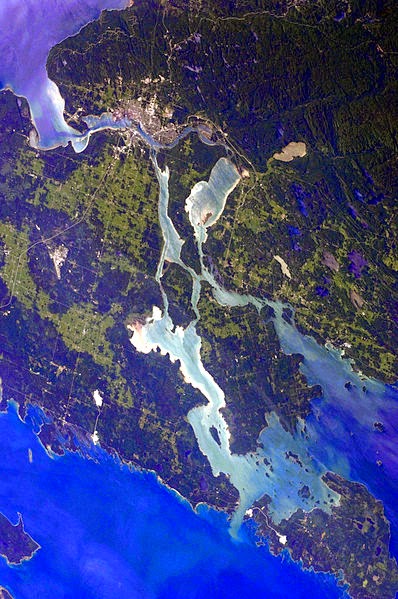 The St. Marys River (French: rivière Sainte-Marie), sometimes written as the St. Mary's River, drains Lake Superior, starting at the end of Whitefish Bay and flowing 74.5 miles (119.9 km) southeast into Lake Huron, with a fall of 23 feet (7.0 m). For its entire length it is an international border, separating Michigan in the United States from Ontario, Canada.
The twin cities of Sault Ste. Marie, Ontario, and Sault Ste. Marie, Michigan are connected across the St. Marys River by the Sault Ste. Marie International Bridge. The St. Marys Rapids are just below the river's exit from Lake Superior and can be bypassed through the Soo Locks and the Sault Ste. Marie Canal.
Two of the Ontario tributaries of this river are the Garden River and the Bar River. Other Canadian tributaries include Fort Creek, the Root River, the Little Carp River, the Big Carp River, the Lower Echo River, Desbarats River, and the Two Tree River. The American tributaries to the St. Mary River are the Gogomain River, the Munuscong River, the Little Munuscong River, the Charlotte River, and the Waiska River.
Islands
Drummond Island (Michigan)
Neebish Island (Michigan)
St. Joseph Island (Ontario)
Squirrel Island (Ontario / Garden River First Nation)
Sugar Island (Michigan)
Whitefish Island (Ontario / Batchewana First Nation)
Note : The above story is based on materials provided by Wikipedia