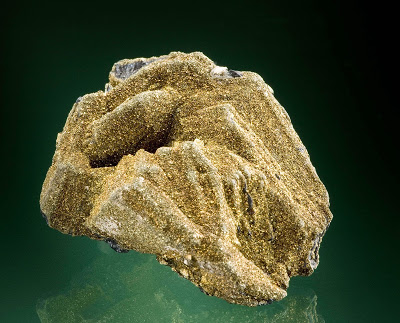 Chemical Formula: [(Ag,Cu)6(Sb,As)2S7][Ag9CuS4]
Name Origin: From the Greek, poly, "many" and basis, "a base" in allusion to the basic character of the compound.
Polybasite is a sulfosalt mineral of silver, copper, antimony and arsenic. Its chemical formula is [(Ag,Cu)6(Sb,As)2S7][Ag9CuS4].It forms black monoclinic crystals (thin, tabular, with six corners) which can show dark red internal reflections. It has a Mohs hardness of 2.5 to 3. It is found worldwide and is an ore of silver. The name comes from the number of base metals in the mineral.
History
Discovery date : 1829
Town of Origin : GUARISAMEY, DURANGO
Country of Origin : MEXIQUE
Optical properties
Optical and misc. Properties: Translucide  –   Opaque
Reflective Power: 30,2-31,7% (580)
Refractive Index: from 2,72 to 2,73
Axial angle 2V : 22°
Physical properties
Hardness : from 2,00 to 3,00
Density: 6,10
Color : iron black; steel black; black grey
Luster: metallic; adamantine; unpolished
Streak : reddish black; dark red; black
Break : irregular
Cleavage : yes
Photos: