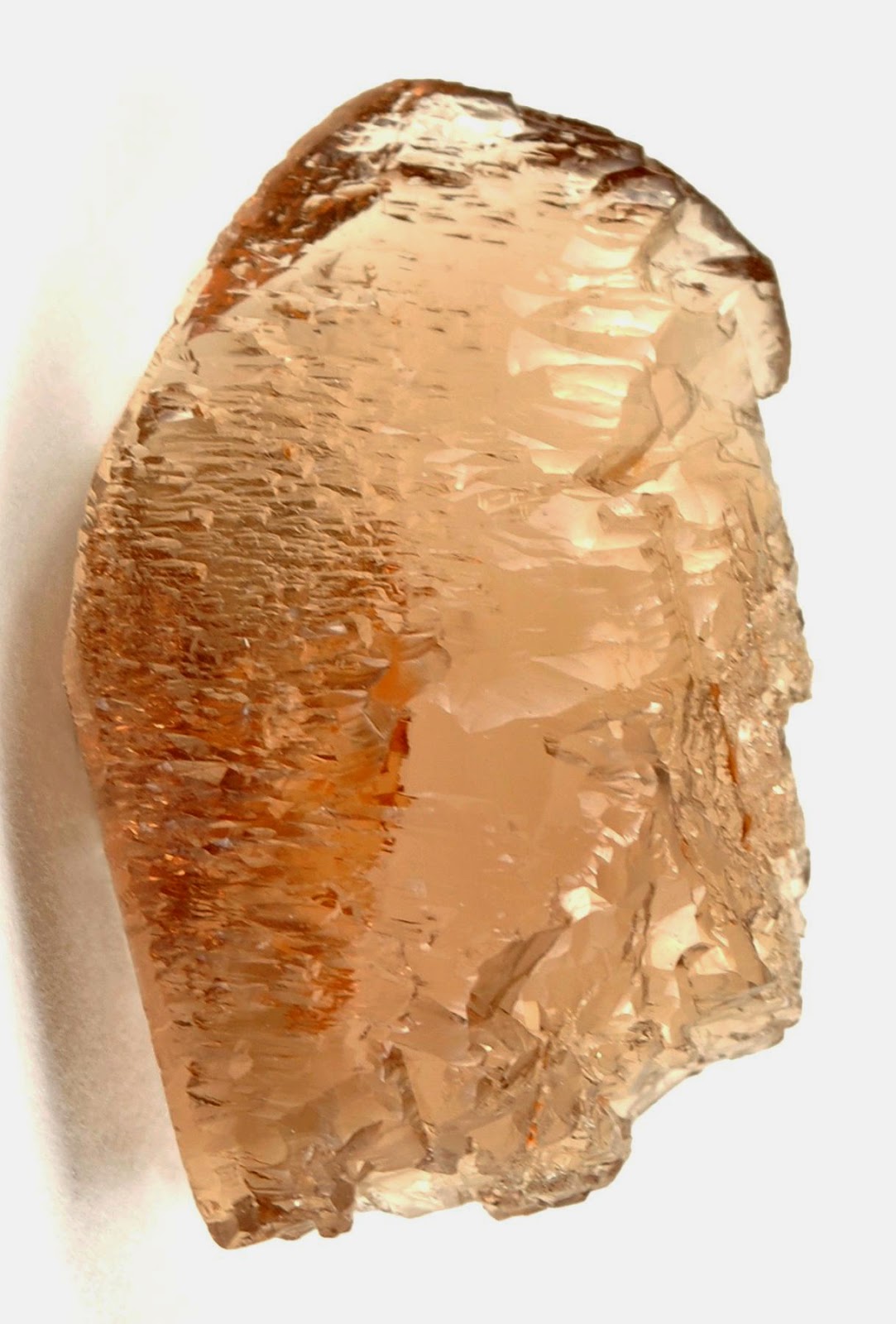 Chemical Formula: LiAl(Si4O10)
Name Origin: From the Greek petalon – "leaf" in allusion to the perfect basal cleavage.
Petalite, also known as castorite, is a lithium aluminium phyllosilicate mineral LiAl(Si4O10), crystallizing in the monoclinic system. Petalite is a member of the feldspathoid group. It occurs as colourless, grey, yellow, yellow grey, to white tabular crystals and columnar masses. Occurs in lithium-bearing pegmatites with spodumene, lepidolite, and tourmaline.
Petalite is an important ore of lithium, and is converted to spodumene and quartz by heating to ~500 °C and under 3 kbar of pressure in the presence of a dense hydrous alkali borosilicate fluid with a minor carbonate component. The colorless varieties are often used as gemstones.
Discovery and occurrence
Discovered in 1800, type locality: Utö Island, Haninge, Stockholm, Sweden. The name is derived from the Greek word petalon, which means leaf.
Economic deposits of petalite ahre found near Kalgoorlie, Western Australia; Aracuai, Minas Gerais, Brazil; Karibib, Namibia; Manitoba, Canada; and Bikita, Zimbabwe.
The first important economic application for petalite was as a raw material for the glass-ceramic cooking ware CorningWare. It has been used as a raw material for ceramic glazes.
History
Discovery date : 1800
Town of Origin : ILE UTO
Country of Origin : SUEDE
Optical properties
Refractive Index: from 1,50 to 1,52
Axial angle 2V: 82-84°
Physical properties
Hardness: 6,50
Density : from 2,41 to 2,42
Color : colorless; white; grey; yellowish grey; yellow; reddish; greenish; pink
Luster: vitreous; nacreous
Streak : white
Break: sub-conchoidal
Cleavage : Yes
Photos: