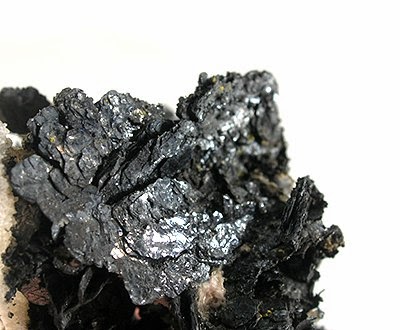 Chemical Formula: Pb5Au(Te,Sb)4S5-8
Locality: Nagyag mine (now Sacaramb), Romania.
Name Origin: Named after the locality.
Nagyágite (Pb5Au(Te,Sb)4S5-8) is a rare sulfide mineral with known occurrence associated with gold ores. Nagyágite crystals are opaque, monoclinic and dark grey to black coloured.
It was first described in 1845 for an occurrence at the type locality of the Nagyág mine, Săcărâmb, Hunedoara County, Romania.
It occurs in gold–tellurium epithermal hydrothermal veins. Minerals associated with nagyágite include: altaite, petzite, stutzite, sylvanite, tellurantimony, coloradoite, krennerite, native arsenic, native gold, proustite, rhodochrosite, arsenopyrite, sphalerite, tetrahedrite, calaverite, tellurobismuthite, galena and pyrite.
History
Discovery date : 1845
Town of Origin: SACARAMB (NAGYAG), COMTE DE HUNEDOARA, TRANSYLVANIE
Country of Origin: ROUMANIE
Optical properties
Optical and misc. Properties : Opaque
Reflective Power: 37,5-41,5% (580)
Physical Properties
Cleavage: {010} Perfect
Color: Lead gray, Black.
Density: 7.5
Diaphaneity: Opaque
Fracture: Hackly – Jagged, torn surfaces, (e.g. fractured metals).
Hardness: 1.5-2 – Talc-Gypsum
Luminescence: Non-fluorescent.
Luster: Metallic
Magnetism: Nonmagnetic
Streak: gray black
Photos :