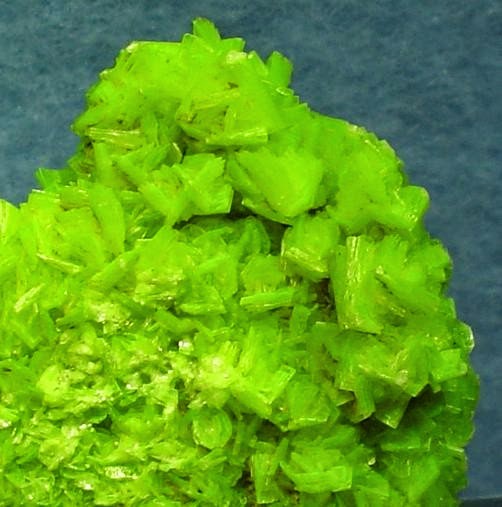 Chemical Formula: Ca(UO2)2(PO4)2· 6-8H2O
Locality: Daybreak mine, Mt Spokane, Washington, USA
Name Origin: Named as the lower hydrate of autunite.
Meta-autunite is a dehydration product of its close cousin, autunite, hence the name. When the mineral autunite loses water and converts to meta-autunite, it becomes what is known as a pseudomorph. A pseudomorph is generally an atom by atom replacement of one mineral's chemistry in place of another mineral's chemistry, while the original crystal's outward shape remains largely unchanged. The process leaves the crystal shape of the original mineral intact, but the original mineral is no longer there. Pseudomorph translated from latin means false shape (pseudo=false; morph=shape).
The structure of meta-autunite is composed of phosphate tetrahedrons linked to uranium-oxygen groups that form distorted octahedrons. The phosphate and uranium groups form sheets that are weakly held together by water molecules. This structure produces the tabular habit, the one perfect direction of cleavage, and the relative softness. It is an analogous structure to that of the phyllosilicates.
Meta-autunite is a highly fluorescent mineral. It is said to fluoresce with a brightness comparable to some of the brightest fluorescing minerals in the world. The bright green fluorescence of meta-autunite is similar to other green fluorescing minerals such as autunite, adamite, green fluorescing opal and of course the spectacular willemites from Franklin, New Jersey, USA. The uranium is the fluorescent activator in meta-autunite and autunite. Trace amounts of uranium are responsible for the green fluorescence in opal and adamite as well. Remember because of the uranium, meta-autunite is a radioactive mineral and should be stored away from other minerals that are affected by radioactivity and human exposure should always be limited.
History
Discovery date : 1904
Optical properties
Optical and misc. Properties : Translucent to Opaque
Refractive Index: from 1,58 to 1,60
Axial angle 2V : 0-20°
Physical Properties
Color: Yellow, Greenish yellow, Yellowish green.
Density: 3.45 – 3.55, Average = 3.5
Diaphaneity: Translucent to Opaque
Hardness: 1 – Talc
Luminescence: Fluorescent, Short UV=pale yellow green, Long UV=pale yellow green.
Luster: Pearly
Photos: