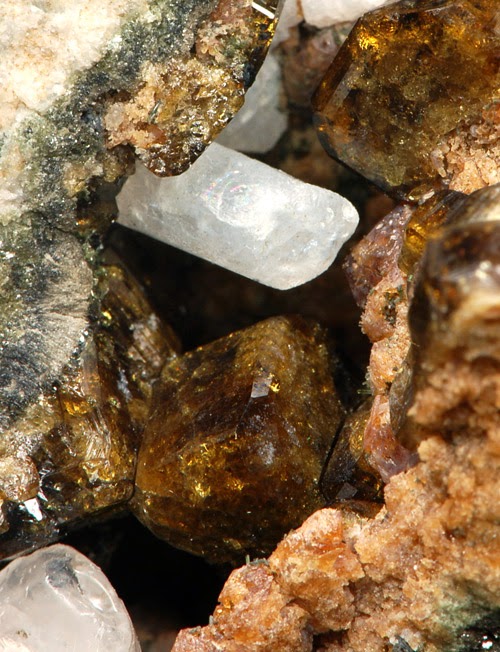 Chemical Formula: Ca4Al6Si6O24CO3
Locality: Mte. Somma, Vesuvius, Italy.
Name Origin: From the Greek for "less", referring to its less acute pyramidal form compared with vesuvianite.
Meionite is a tectosilicate belonging to the scapolite group with the formula Ca4Al6Si6O24CO3. Some samples may also contain a sulfate group. It was first discovered in 1801 on Mt Somma, Vesuvius, Italy.
History
Discovery date : 1801
Town of Origin : MONTE SOMMA, MT. VESUVE (VOLCAN), NAPLES, CAMPANIE
Country of Origin: ITALIE
Optical properties
Optical and misc. Properties: Transparent to subtranslucent
Refractive Index : from 1,55 to 1,60
Physical Properties
Cleavage: {???} Distinct, {???} Indistinct
Color:     Bluish, Brownish, Colorless, Violet, Greenish.
Density: 2.66 – 2.73, Average = 2.69
Diaphaneity: Transparent to subtranslucent
Fracture: Sub Conchoidal – Fractures developed in brittle materials characterized by semi-curving surfaces.
Hardness: 5-6 – Between Apatite and Orthoclase
Luminescence: Fluorescent, Short UV=yellow-white, Long UV=red.
Luster: Vitreous – Resinous
Streak: colorless
Photos :