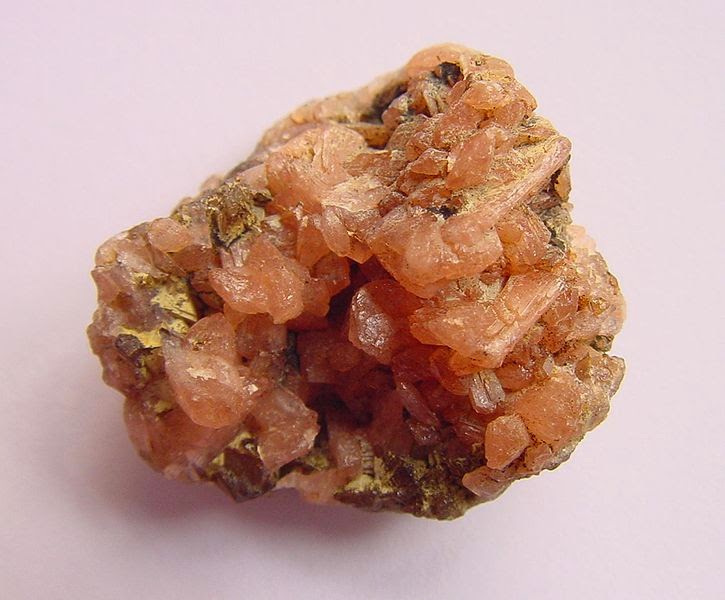 Chemical Formula: (Mn,Fe)5(PO4)2(HPO4)2·4H2O
Locality: Hureaux in St. Silvestre and Vilate near Chanteloube, N of Limoges, Haute Vienne, France.
Name Origin: Named for the locality.
Hureaulite is a manganese phosphate with the formula (Mn,Fe)5(PO4)2(HPO4)2·4H2O. It was discovered in 1825 and named in 1826 for the type locality, Les Hureaux, Saint-Sylvestre, Haute-Vienne, Limousin, France.
A complete series exists from lithiophilite, LiMn2+PO4 to triphylite, LiFe2+PO4, including hureaulite, strengite,  FePO4·2H2O, stewartite, Mn2+Fe3+2(OH,PO4)2·8H2O, and sicklerite, (LiMn2+,Fe3+)PO4.
Physical Properties
Color:  Red, White, Grayish white, Yellowish white, Reddish white.
Density: 3.18
Diaphaneity: Transparent to Translucent
Fracture: Brittle – Uneven – Very brittle fracture producing uneven fragments.
Hardness: 5 – Apatite
Luminescence: Non-fluorescent.
Luster: Vitreous – Greasy
Streak: white
Photos :